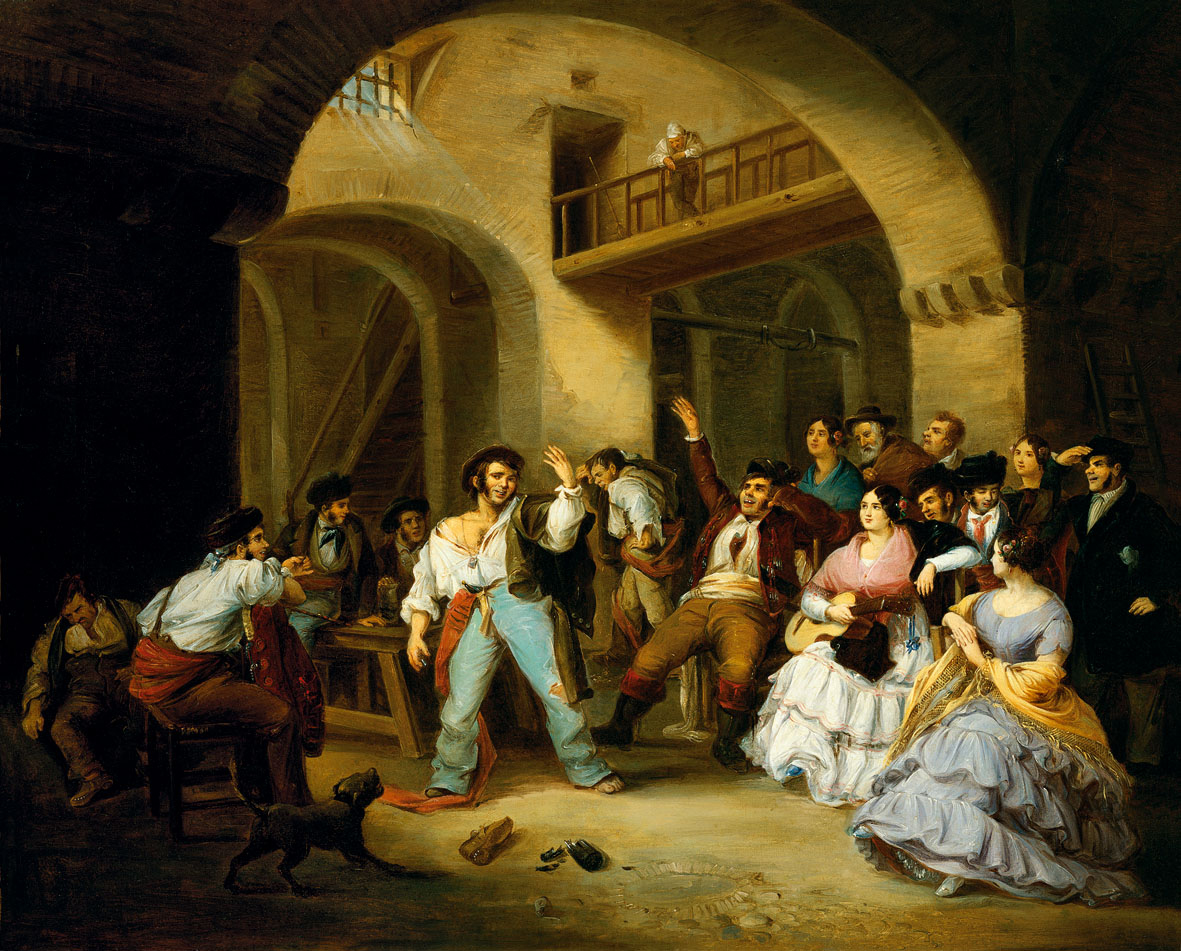 A Drunkard at an Inn
1850
Oil on canvas

60 x 74.5 cm

CTB.1998.3

© Colección Carmen Thyssen-Bornemisza en préstamo gratuito al Museo Carmen Thyssen Málaga
Acquired together with its companion piece entitled The Brawl, signed by Cabral Bejarano and dated 1850, the present painting shows the interior of a tavern where a totally inebriated local, barefoot and wineglass in hand, bursts into a lively get-together and breaks into song, much to the mirth of all those present. With a ragged appearance due to the effects of alcohol, he has kicked off a shoe and broken a bottle and his shirt is hanging open showing the knife at his waist and the scapulary around his neck. Some observers glance at his ridiculous appearance with a kindly smile, while others guffaw and a young man weak with laughter, on the point of tears, has to lean against the wall to prop himself up.
This work and its companion piece are two of the earliest known Andalusian genre scenes of a certain importance by this prolific artist, who painted them at the age of twenty-three, and by whom the Carmen Thyssen-Bornemisza Collection owns other interesting examples from his long and fruitful career.
Despite being early works, they attest to Cabral Bejarano's particular skill at devising architectural settings – on this occasion a humble inn, arranged with a pronouncedly theatrical focus with dramatic interplays of space and perspective created by the succession of arches, the steeply rising stairs, the beams and the overhead corridor where the innkeeper, abandoning his sweeping, watches the ridiculous sight.
The painting displays the artist's particular talent at arranging the figures on different planes without interference and giving them all an expressive reaction in accordance with the comic theme. This further evidences the special narrative instinct of this painter, which led Luis Quesada to believe that each picture represents a passage from the chapter "El Roque y el Bronquis" of the Escenas andaluzas published in 1846 by the Malaga-born genre writer Serafín Estébanez Calderón "El Solitario" (1799–1867), which tells of merrymaking that ends in fighting. However, although the plot of this farce could tie in with the painting of The Brawl, the same does not hold true of the present scene, which does not correspond to any of the passages in this comic tale.
Although most of the human types are tinged almost with caricature – in accordance with the burlesque nature of the theme – Cabral Bejarano always displays a particular elegance in his drawings of the figures. This is particularly evident in the two women, especially the one sitting on the right with her head turned, both in her pose and in the handling of the folds of her frilled dress and fringed shawl, which are furthermore rendered in clean, vivid colours that were largely the key to his success in the years that followed his presentation at court.
José Luis Díez