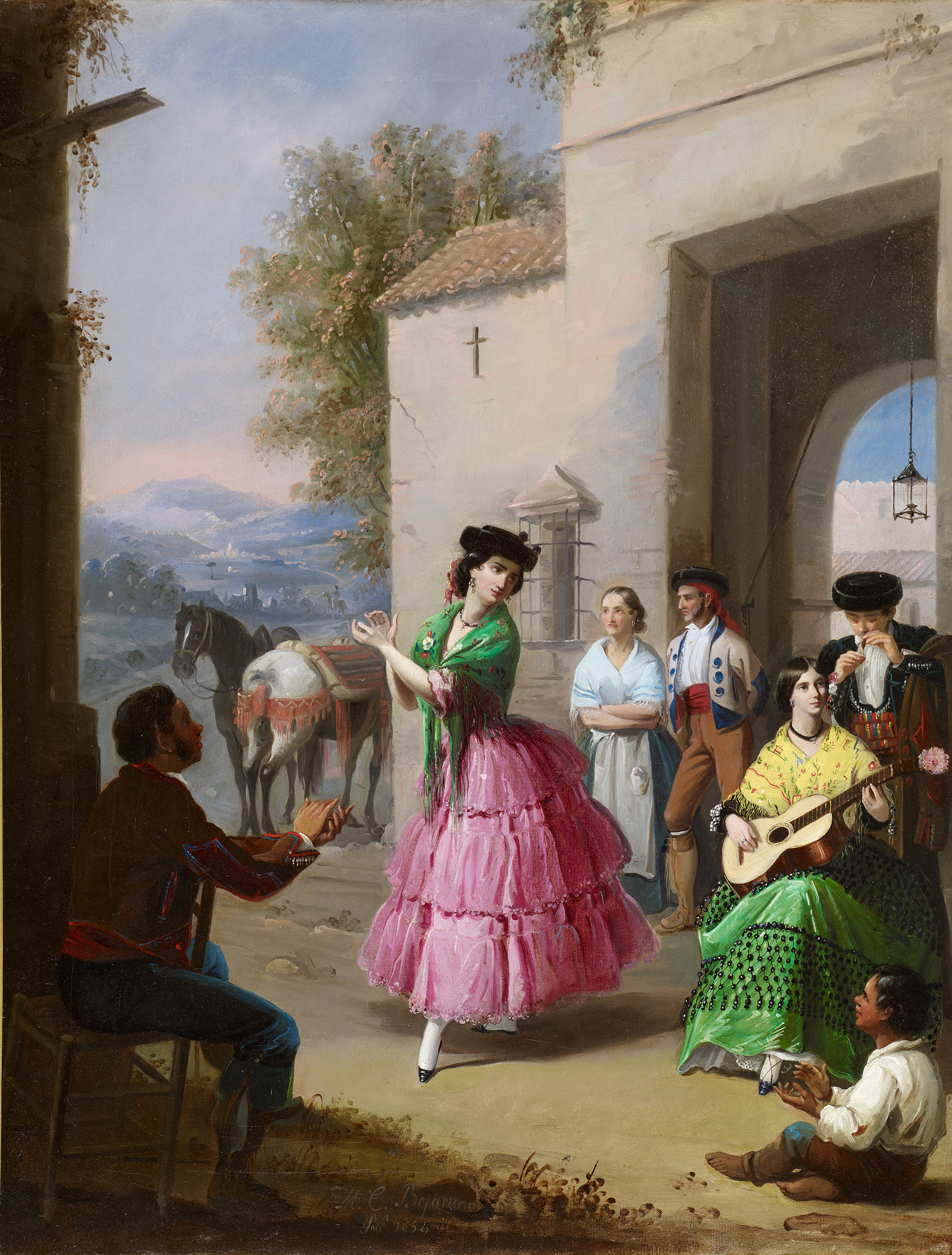 Cheering at the Gates of the Farm
1854
Oil on canvas

64 x 50 cm

CTB.2002.2

© Colección Carmen Thyssen-Bornemisza en préstamo gratuito al Museo Carmen Thyssen Málaga
A girl dressed in pink claps her hands and breaks into a dance to the music played by another young woman on the guitar. Several people watch them or clap to the rhythm, such as a small boy sitting on the ground on the right who recalls the little rascals in Murillo's paintings. Visible behind this group are the walls of a farmhouse and on the left, behind a pair of horses, a cattle goader on horseback can be made out arriving at a small village. Further in the distance is a larger village.
The surroundings may be identified thanks to another picture by Bejarano that recently appeared on the Madrid art market and undoubtedly reproduces with slight modifications the same building depicted in the present painting. Entitled Llegada del conde del Águila a su finca de Aldehuela ("The Count of Águila Arriving at his Aldehuela Estate"), not only does it feature very similar architecture with the same details such as the entrance, the straight-sided doorway followed by the semi-circular arch leading to a courtyard that has the same lamp in both pictures, the left-hand side of the wall with a cross-shaped skylight, and above all the background landscape, but even some of the figures are repeated, such as the couple who are located behind the main figure in the picture in the Carmen Thyssen-Bornemisza Collection and are similarly positioned by the entrance to the farmhouse in this new work.
These formal similarities could lead the setting of the work in the Carmen Thyssen-Bornemisza Collection to be identified as the country estate of the Count of Águila in Aldehuela, were it confirmed that the place depicted in the recently sold painting attributed to Cabral Bejarano does indeed represent this estate. The ancestral home of the Counts of Águila was located in Arcos de la Frontera (Cadiz), although it has not been possibly to identify "Aldehuela" precisely; it was most likely a farm and pleasure estate belonging to the noble family in Andalusia.
In order to recreate nature, Cabral Bejarano uses a simple brief, sketchy technique to set the figures in a landscape that recalls primitive Flemish painting, employing different shades of blue to gradate the distant horizon. The figures, somewhat more refined and complete, stand out for their vivid colours and the skilful draughtsmanship of their details, which is further accentuated by the notable cold, raking light they receive.
The work joined the collection from the Madrid art market together with its companion piece, The Fritter Stall, which is similar in form and size, although there is no connection between the themes depicted other than their festive nature.
Carlos G. Navarro