Friends of the Museum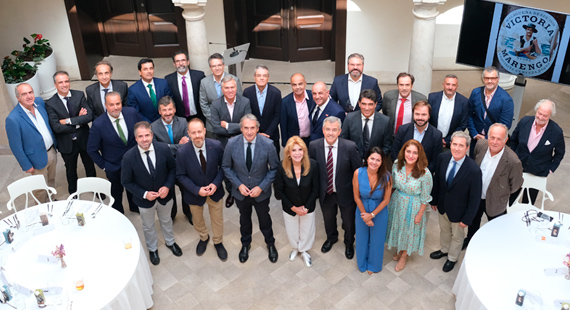 Corporate Friend of the Museum
La aportación de su empresa puede contribuir a preservar y divulgar el conjunto excepcional de obras de arte que custodiamos en el Museo Carmen Thyssen Málaga. A la satisfacción de ayudarnos a conservar y dar a conocer mejor la Colección, se unirá la imagen de su empresa estrechamente vinculada al mundo del arte y la cultura.
Contribution
Benefits
Friends Card for free access for six people.
Free use of audio guides for users of the card.
Guided tour for 2 groups of 20 people.
Night time guided group tour (maximum 20 people) with use of the Museum's terrace and a glass of Malaga wine.
Exclusive introductory tour of the temporary exhibitions led by the Artistic Director or the Curator for Corporate Friends of the Museum.
Use of the Museum's Auditorium for half a day.
Use of the Museum's Column Courtyard for an evening event.
50 invitations for the Museum every year.
A guide book to the Permanent Collection on joining, and a catalogue for each Temporary Exhibition.
A day for the free visit to the Museum for your partners/colleagues/members.
Invitation (2 pax) to the opening events of exhibitions.
Invitation (2 pax) to the annual Friends of the Museum Reception.
15% discount on hire of Museum spaces.
Inclusion on the Museum's website with a link to your website.
10% discount in the Museum Gift Shop, except on books and Museo Thyssen Bornemisza products.
50% discount on entrance to the Museo Thyssen Bornemisza in Madrid.
Terms and Conditions
Payment of €2,950 annual fee, paid by direct debit.
The Corporation will be the holder of the Friend of the Museum card.
The Corporation will enjoy the benefits upon presentation of the Friend of the Museum card.
The benefits will be exercised in the year counting from the date of formalizing enrolment.
Reservations for group tours should be made at: amigosdelmuseo@carmenthyssenmalaga.org
The use of the Friend Card requires respecting the conditions of the programme, and the holder shall not make fraudulent use of it against the interests of the Museum, in response to which the Fundación Palacio de Villalón, managers of the Museo Carmen Thyssen Málaga, may take legal action.