Friends of the Museum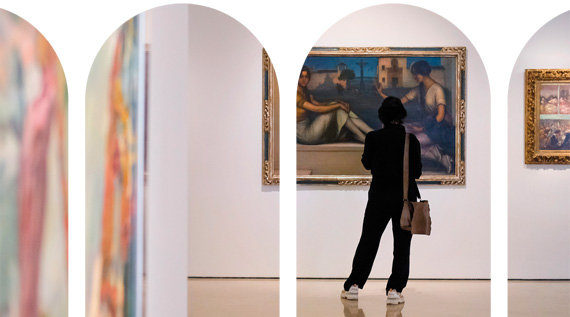 Benefits
Carnet para el acceso libre y gratuito del titular al Museo.
Visitas guiadas a la colección permanente y a cada exposición temporal
Libro guía de la Colección Carmen Thyssen con el alta en este programa.
Invitación al Encuentro Anual de Amigos del Museo.
Actividades culturales exclusivas para los Amigos.
Descuentos en actividades culturales generales del Museo.
Descuentos del 10 % en la Tienda del Museo (5% en librería).
Descuentos del 50% en la entrada al Museo Thyssen Bornemisza de Madrid y al Museo Carmen Thyssen Andorra.
Deducción de hasta el 75% del importe de la donación en la cuota del IRPF.
* Reduced on presentation of ID: over 65, pensioners, disabled people and students under 26. LOPD (Data Protection Act): We inform you that your data will be included in the file "Address Book" which is the property of Fundación Palacio de Villalón, with registered offices in Calle Compañía 10, 29008 Málaga, to whom you may apply to exercise your rights of opposition, access, rectification and cancellation. Your data will be processed with the sole purpose of facilitating access to the benefits of the programme "Friends of Museo Carmen Thyssen Málaga" .
Terms and Conditions
Payment of the annual fee
The Holder will receive his/her Friend of the Museum card at the address indicated. The card is personal and not transferable and must be presented to enjoy the benefits of the Friends of the Museum programme.
The holder will enjoy unlimited free access for a year. With the Individual +1 modality, the companion will enjoy free, unlimited access whenever accompanied by the holder of the card. To enjoy these benefits, it is essential that the card holder presents their Friend of the Museum card, along with his/her ID card at the Box Office.
The guided tour is offered with prior booking to the email address: amigosdelmuseo@carmenthyssenmalaga.org
The Holder will enjoy a 10% discount on gift shop items upon presentation of the Friend of the Museum card, together with his/her ID at the shop.
The card holder is obliged to respect the conditions of the programme, and shall not make fraudulent use of it against the interests of the Museum, in response to which the Fundación Palacio de Villalón, managers of the Museo Carmen Thyssen Málaga, may take legal action.
The term of this agreement is one year, and may be tacitly extended by a year.