Friends of the Museum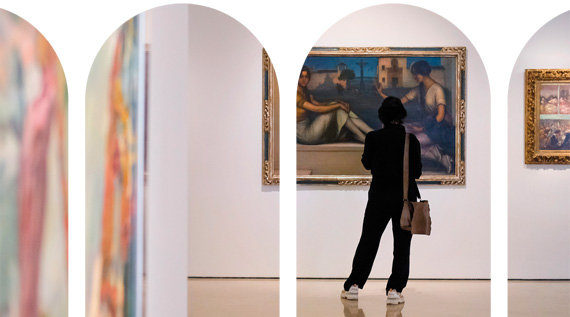 Friend of the Museum
Contribution
Individual Friend of the Museum (65€):65€
Reduced *:40€
Individual Friend of the Museum + Companion (90€):90€
Benefits
Free access to the Museum. (Also for your companion in the case of this modality).
Guided free tours to the Permanent Collection and each of the temporary exhibitions that are inaugurated in groups organized by the Museum. (Also for your companion in the case of this modality).
10% discount in the museum shop, except on books and Museo Thyssen Bornemisza products.
A guide book to the collection the first year and a catalogue of the current temporary exhibition at the time of renewal from the second year.
50% discount on entrance to the Museo Thyssen Bornemisza in Madrid and the Museum of Contemporary Art of Rome.
Museum newsletter.
Invitation to the annual Friends of the Museum Reception.
Enjoy the promotional activities offered by the Museum.
15% discount on your next annual fee for each new entity that, on your recommendation, joins the Club of Friends of the Museum in the same category as you. If the membership is carried out in a higher category, the discount will be 25%.
Deduction of 25% of the amount of your donation from your income tax.
* Reduced on presentation of ID: over 65, pensioners, disabled people and students under 26. LOPD (Data Protection Act): We inform you that your data will be included in the file "Address Book" which is the property of Fundación Palacio de Villalón, with registered offices in Calle Compañía 10, 29008 Málaga, to whom you may apply to exercise your rights of opposition, access, rectification and cancellation. Your data will be processed with the sole purpose of facilitating access to the benefits of the programme "Friends of Museo Carmen Thyssen Málaga" .
Terms and Conditions
Payment of the annual fee
The Holder will receive his/her Friend of the Museum card at the address indicated. The card is personal and not transferable and must be presented to enjoy the benefits of the Friends of the Museum programme.
The holder will enjoy unlimited free access for a year. With the Individual +1 modality, the companion will enjoy free, unlimited access whenever accompanied by the holder of the card. To enjoy these benefits, it is essential that the card holder presents their Friend of the Museum card, along with his/her ID card at the Box Office.
The guided tour is offered with prior booking to the email address: amigosdelmuseo@carmenthyssenmalaga.org
The Holder will enjoy a 10% discount on gift shop items upon presentation of the Friend of the Museum card, together with his/her ID at the shop.
The card holder is obliged to respect the conditions of the programme, and shall not make fraudulent use of it against the interests of the Museum, in response to which the Fundación Palacio de Villalón, managers of the Museo Carmen Thyssen Málaga, may take legal action.
The term of this agreement is one year, and may be tacitly extended by a year.
Signing up form