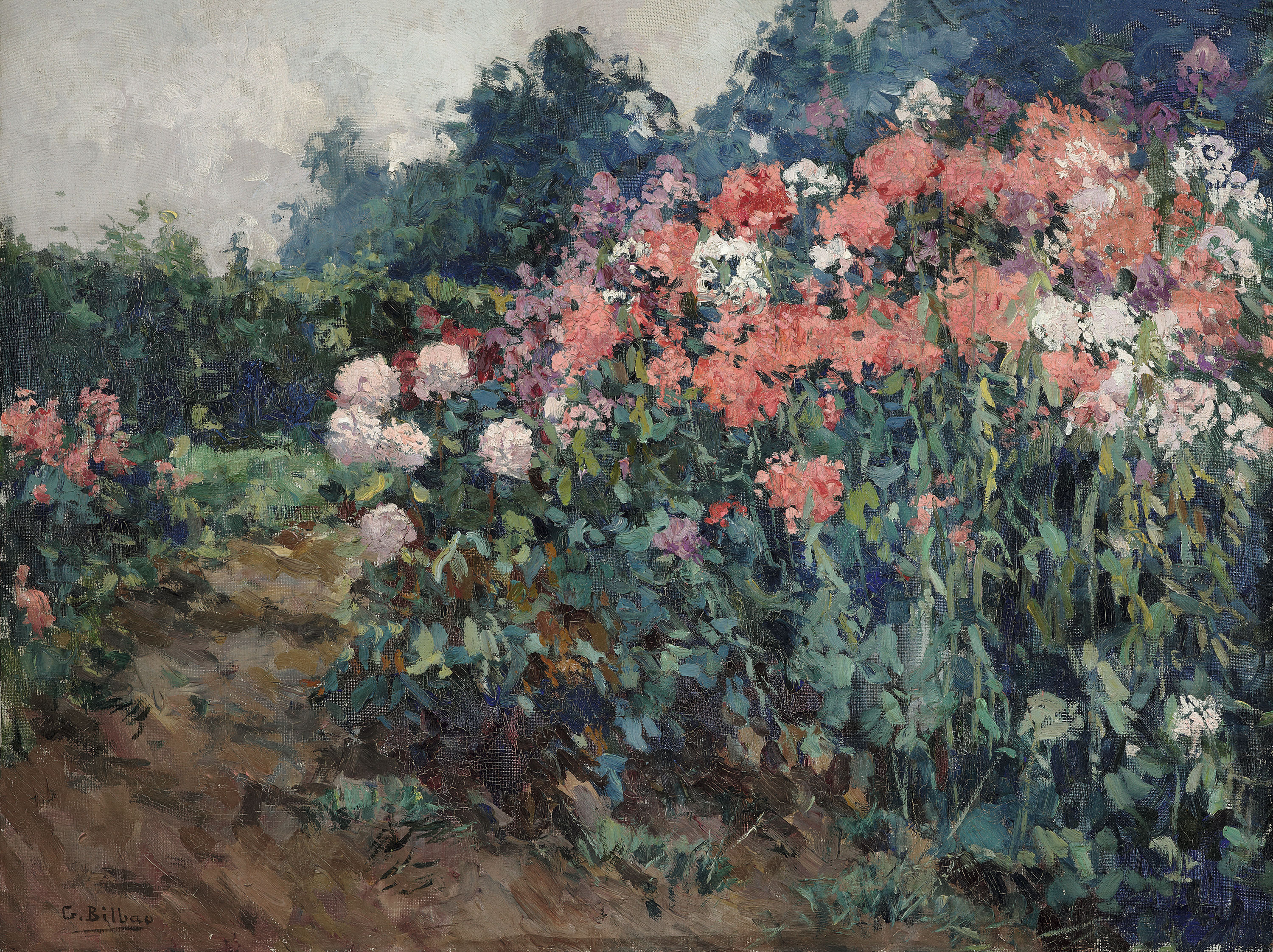 Rose Garden
s.f.
Oil on canvas

65 x 86 cm

CTB.2012.5

© Colección Carmen Thyssen-Bornemisza en préstamo gratuito al Museo Carmen Thyssen Málaga
Landscape was to be one of the most important genres in Gonzalo Bilbao's (1860–1938) pictorial production. In the late 19th century, natural landscape had become fashionable in Spanish painting due mainly to the influence of French Impressionism. As it was one of Bilbao's favourite themes, he developed it in all its aspects – urban, rural and marine – not only in Andalusia but elsewhere in Spain and even abroad. As a result, he became one of the foremost landscape painters of his day.
One speciality of Bilbao's urban paintings was the garden landscape. Painted in the open air, works of this kind form a series of very diverse pictures. Although generally undated, they were executed mainly around 1900 and feature Andalusian gardens, particularly those with courtyards containing fountains, ponds and plants, and include various series, for example Jardines del Alcázar de Sevilla ("The Alcazar Gardens in Seville") and the Claustro Mayor del convento de la Merced de Sevilla ("Main Cloister of the Convent of Mercy in Seville", currently the Museum of Fine Arts), as well as other small paintings of courtyards in Seville.
Rose Gardenwhich belongs to the Carmen Thyssen- Bornemisza Collection, breaks way from the Andalusian garden archetype so commonly produced by the artist and, unlike other works, depicts only part of the garden, the focal point being the roses in bloom. In the foreground, framed on the right and filling most of the canvas, is a large bush resplendent with pink and white roses. To the left of the composition, a narrow path leads away to other parts of the garden full of rosebushes and trees. A small area of light blue sky can be glimpsed in the upper left-hand corner. The artist's use of colour is absolutely masterful, with the pink, mauve and white tones of the roses in full bloom dominant. The faintly drawn outlines blend into the vegetation. Here Gonzalo Bilbao's technique is very similar to the truest form of Impressionism and displays similarities with paintings on the same theme by Claude Monet or Joaquín Sorolla's luminarist works.
María Luisa García Serrano