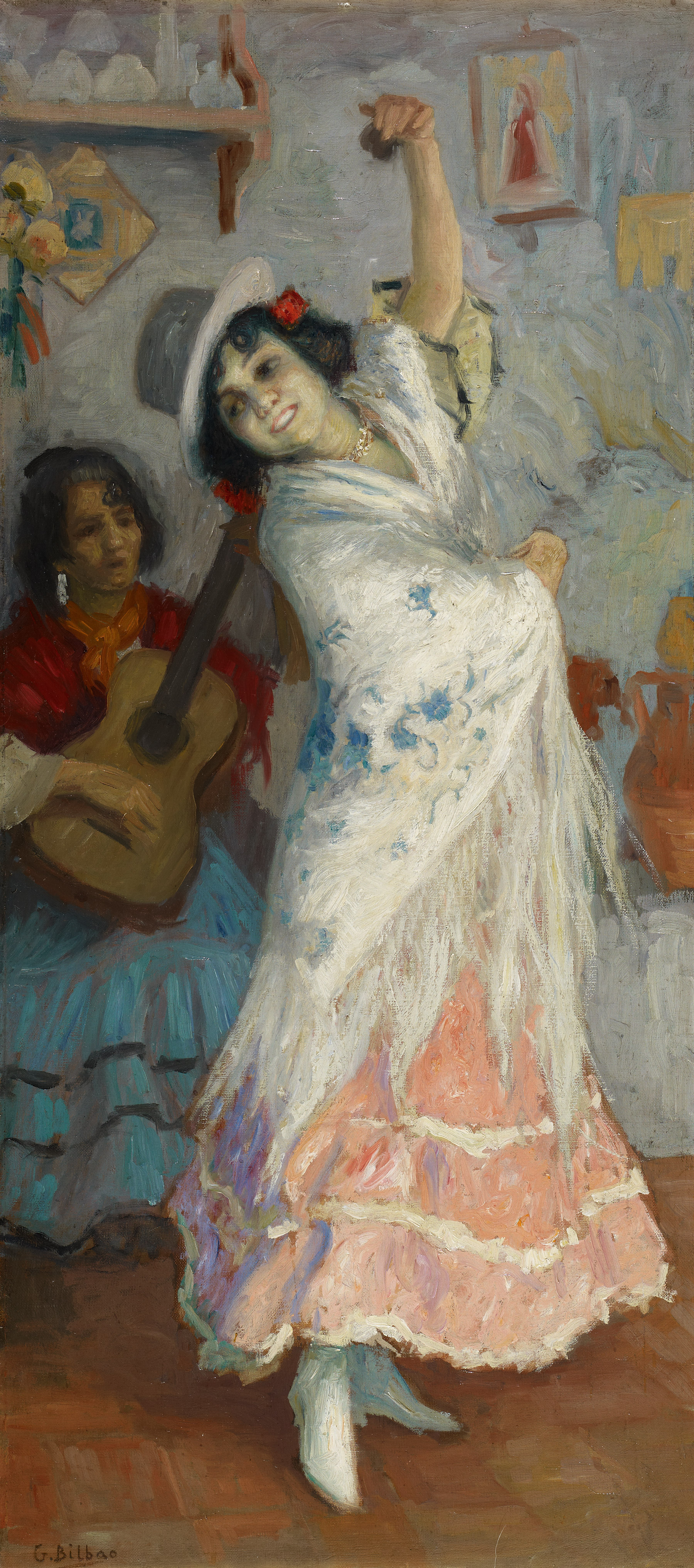 A Flamenco Dancer
c. 1913
Oil on canvas

100 x 45 cm

CTB.2008.6

© Colección Carmen Thyssen-Bornemisza en préstamo gratuito al Museo Carmen Thyssen Málaga
A gypsy girl wearing a Cordovan hat and a Chinese shawl plays the castanets and dances inside some humble building. Clearly distinguishable in the background, a female guitarist accompanies the dancer with song while to her side a shadow is apparently cast by a third figure that is hidden from view. Easily recognisable on the walls are objects from everyday life and typical of a modest, early 20th-century Seville dwelling. A religious image hanging on the wall, a small shelf with crockery and various domestic earthenware vessels arranged around the room confirm that the girl is dancing in a house rather than in one of the establishments which sprang up in Seville in the early 19th century to attract travellers and were always adorned with the mirrors, shawls and bullfighting posters that are absent here.
Here Bilbao was interested in capturing a different flamenco performance, an alternative show to those in Seville's cafés. Indeed, in the provincial capital and all over Andalusia, private gypsy parties and dances were a common occurrence, although it was virtually impossible to gain entrance without an invaluable personal invitation from the families or friends who arranged them. This restricted access and above all the improvised nature of the performances having little to do with programmes or contracts made the most authentic expression of flamenco art possible on such occasions and those who attended gave free rein spontaneously to flamenco's most emotional side. However, as events normally organised by gypsies for gypsies, they were seen as preserving the most genuine and intense purity of that art and were therefore regarded as all the more valuable by those who sought out that attractive aspect of Andalusian culture.
From the mid-19th century it was common practice for Spanish and foreign artists to paint pictures of events like these, and in the 1880s, jaleo iconography, as an unusual and genuinely Andalusian form of entertainment, reached its height. Nevertheless, after the turn of the century, regenerationist ideas encouraged anti-flamenco feeling in Spain – closely linked to the first stages of the anti-bullfighting discourse – which defined the survival of those facets of traditional culture as irrational customs obstructing the country's progress. Vehemently opposed to such ideas, which spread ever more as the new century advanced, artists closely connected emotionally with that iconography, Gonzalo Bilbao included, revised flamenco song and dance images, infusing them with a strong sense of reaction in favour of the artistic attraction of the most genuine Andalusian traditions – as based on their pure sensuous appeal – and used them to vindicate the best-known and most widely diffused image of things Andalusian.
This painting from the Museo Carmen Thyssen Málaga Collection is a fine example of that commitment to the defence of the purely aesthetic appeal of flamenco dancing in that specific 20th-century context. In this painting from his mature period, Bilbao handled artificial light with skill, using it to highlight fancifully the volumes of the flamenco dancer's body. Thus, the foreground is sinuously lined with back lighting of intense colours reaching the woman's back and, thanks to the improvised footlights, even her face. Furthermore, the use of bold, vivid colours, as in the bright carnations she wears in her hair or the violet tone of the flounces in shadow, attest to the belated influence of Symbolist aesthetics in Bilbao's mature work.
Carlos G. Navarro