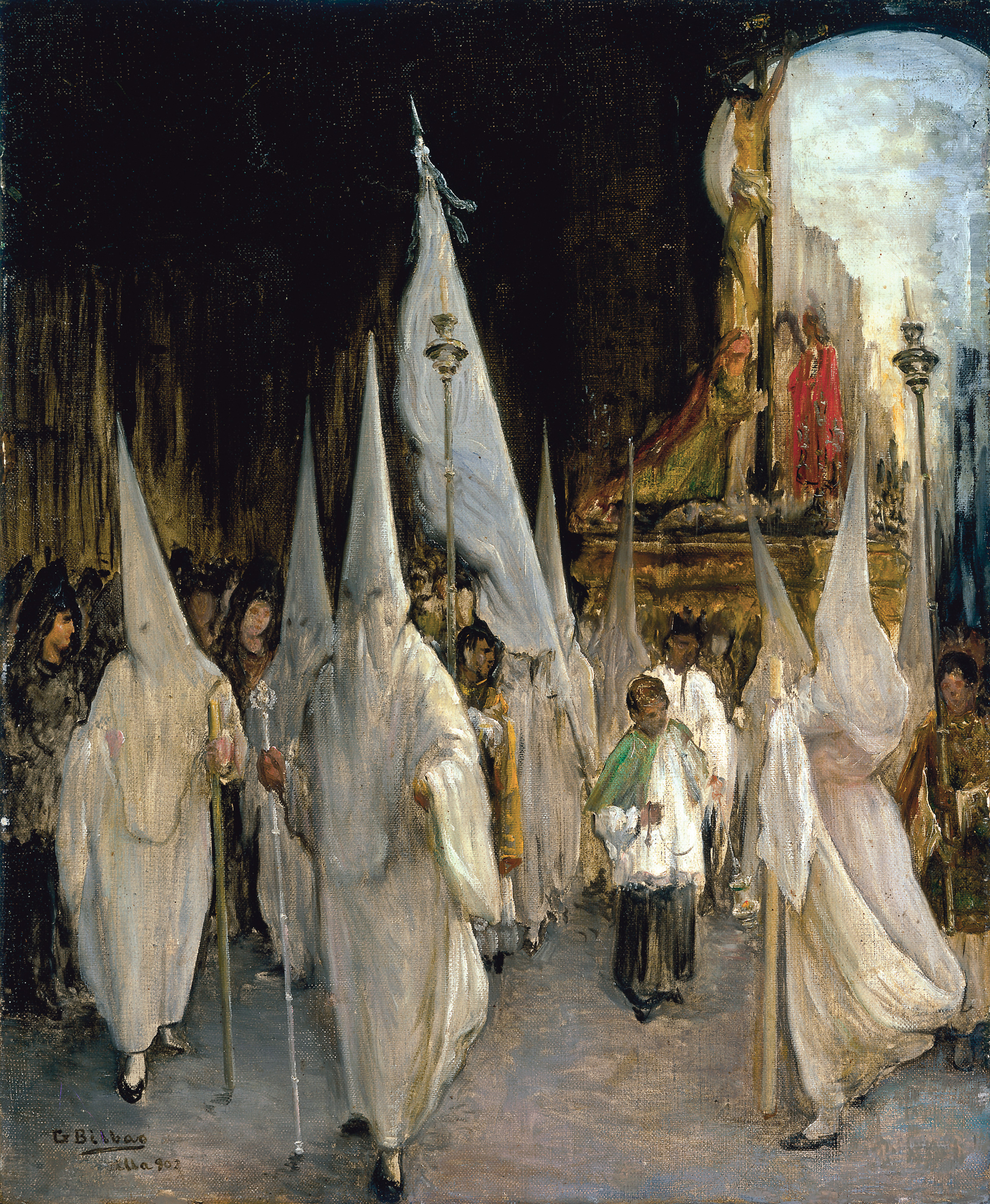 Procession of the Seven Words
1902
Oil on canvas

54 x 45 cm

CTB.2003.7

© Colección Carmen Thyssen-Bornemisza en préstamo gratuito al Museo Carmen Thyssen Málaga
Holy Week as a public manifestation of the faith of certain brotherhoods has been deeply rooted in Sevillian tradition since the late Middle Ages. However, in the wake of the Council of Trent and during the Baroque period, the stations of the cross were commended to the new brotherhoods. By the second third of the 19th century that event had come to be seen as a reason for the celebration of a liturgical festival. The Seville of Isabella II was an ideal setting for processional parades and these began to be represented through Romantic artistic manifestations, particularly paintings, featuring images supposedly typical of local customs. Such paintings were easily sold to travellers arriving in the city and their dissemination was aided by the links with and protection accorded to brotherhoods by the Montpensiers. Romanticism took charge of the pictorial portrayal of Sevillian processions, promoting their image until the end of the 19th century, at which point regionalism technically renewed that image, its aim being to turn the picturesque legend into a definition of specifically Andalusian characteristics and give rise to a beneficial process of reflection on all things regional.
Gonzalo Bilbao is regarded as the most characteristic renovator of Romantic genre painting in the early days of Sevillian regionalism, at the beginning of the 20th century. His work thus acquired that popular and picturesque character which painters of previous generations had wished to imprint on their own works. The spiritual essence of his genre painting continued to be Romantic, with only forms and technique changing. Indeed, the latter possesses the deeply Sevillian, and indeed Andalusian, tendency to turn the Passion of Christ into a festive occasion. Furthermore, Bilbao's artistic sensitivity and Christian beliefs led him to transfer to the canvas all that he saw and felt.
In 1902, Alfonso XIII was proclaimed King of Spain. Joaquín Sorolla went to Seville to attend the coronation and also to take up Gonzalo Bilbao's invitation to paint the processional parades. Bilbao himself painted this scene of the entrance of the Brotherhood of the Seven Words into the metropolitan cathedral, just when the Seville brotherhoods were considering the creation of a new official processional route.
Like a press photographer, the painter took up a position facing the main procession. In the foreground stands the elder, staff in hand; behind him are several penitents who, like him, are wearing white robes and black shoes, some carrying candles and one the white flag; in the middle are youths with candlesticks, and an altar boy with a thurible. At the sides are women in mantillas and in the background, the float carries Roldán's crucified Christ (from which the brotherhood takes its name) and the 19th-century images of Our Lady of Remedies, St John and Mary Magdalene.
With little preliminary drawing, the painting displays a bold, loose palette based on sporadic dabs of colour in a simple range, predominantly whites with some golds, reds and greens.
Gerardo Pérez Calero