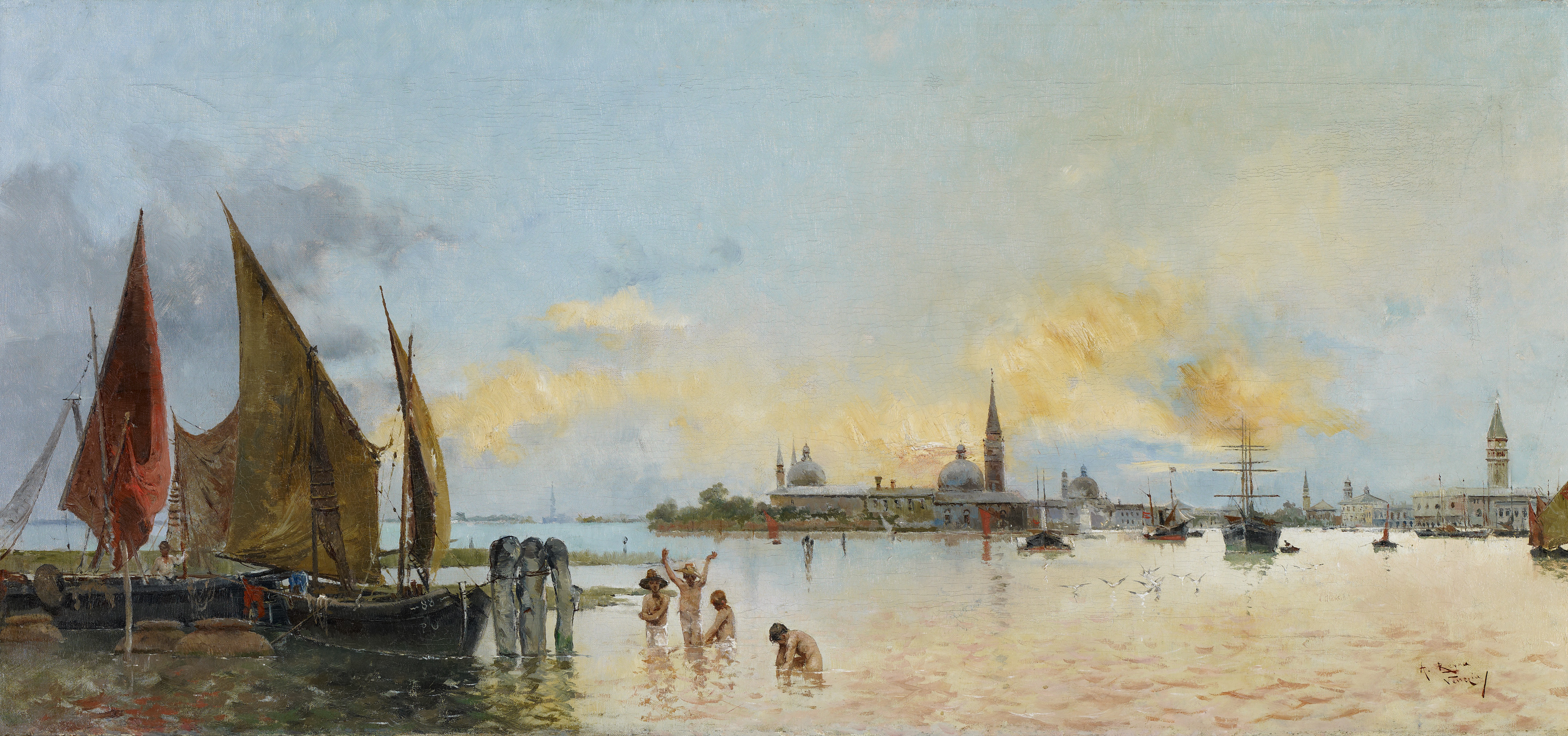 View of Venice
s.f.
Oil on canvas

34.5 x 74 cm

CTB.1995.84

© Colección Carmen Thyssen-Bornemisza en préstamo gratuito al Museo Carmen Thyssen Málaga
The contrast between the dark area in the foreground to the left (boats and sails) and the brighter space in the distance as a way of accentuating depth is reinforced by the comparison between the vertical lines on the left-hand side and the horizontal ones of the fine coastal outline punctuated by the Venetian campaniles (as typical as the apparently weightless domes) or the bare masts of the sailing ship to the right of centre. The warmth of the colour of the sunset, with the glow itself reflected perhaps a little too sketchily in the water on the right of the canvas, is consonant with the pleasant skin tones of the children bathing in the foreground.
This picture is one of a large number of views of Venice painted by Reyna when, having moved to Rome on a grant from the Malaga Provincial Council in 1882, he visited the city of canals in 1885. During that time he also painted a view of the Grand Canal (even though his permanent residence was apparently still in the capital). It seems that he often travelled between the two cities and is said to have frequented the Spanish colony in Venice and regularly visited the Caffè Florian and the residence of Fortuny's widow, Cecilia Madrazo, at the Palazzo Martinengo delle Palle. As Reyna belonged to that group, his views of Venice display that bright limpidity which characterises the views of the most devoted painter of all to the city, Martín Rico y Ortega. It is also true that some of his Venetian architectural views could be described as scenes of the city with figures dressed in the 18th-century style. However, they are above all vedute of picturesque locations or constructions with architectural elements typical of the city, which he sometimes blatantly and repeatedly copied with the minimum – or rather the smallest – of variation. Although Reyna's views of the city's typical locations are almost always small in size, he always painted them with loose brushstrokes and the most appropriate atmosphere.
Esteban Casado