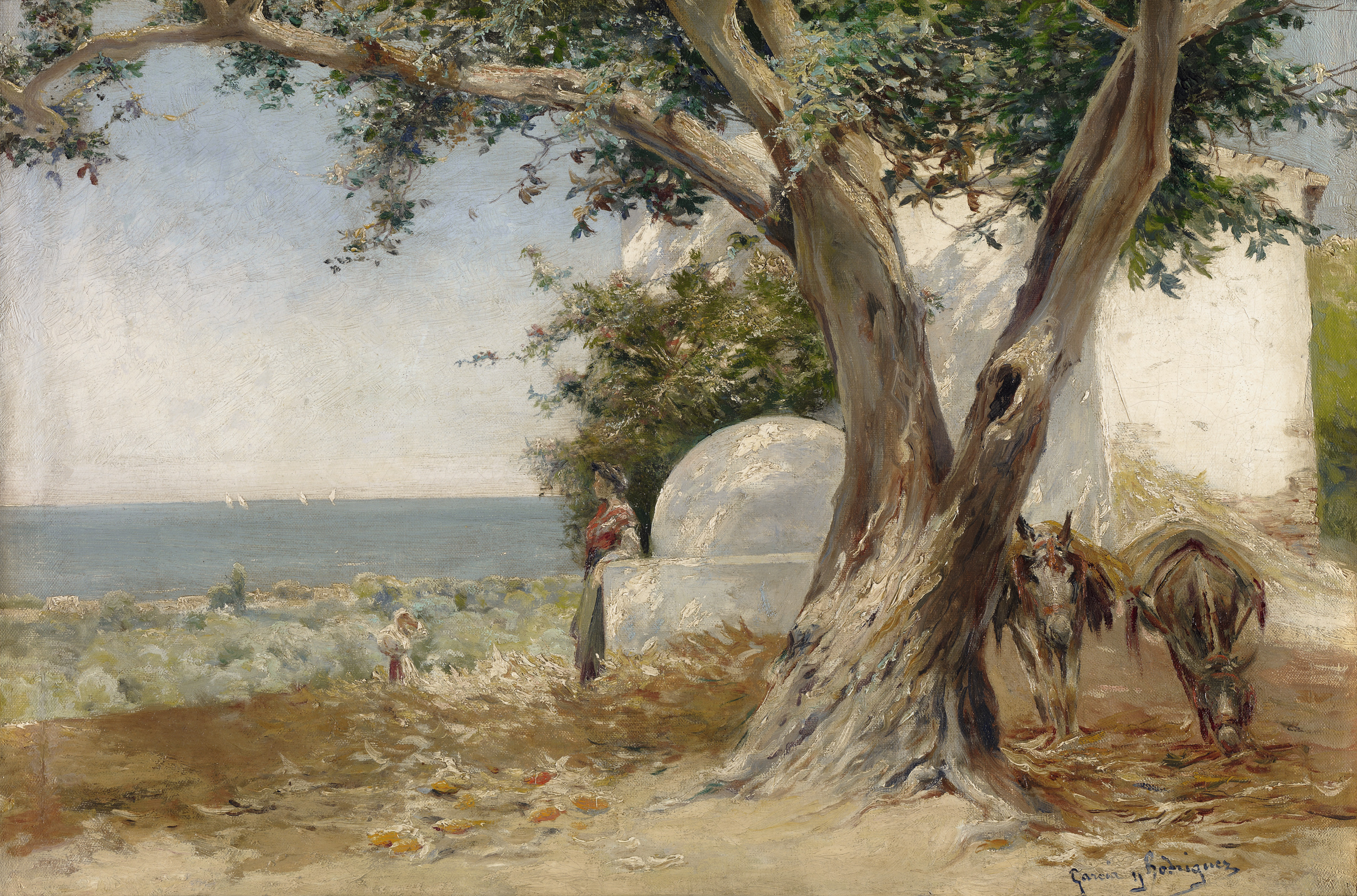 Sanlúcar de Barrameda
s.f.
Oil on canvas

33 x 49 cm

CTB.1995.146

© Colección Carmen Thyssen-Bornemisza en préstamo gratuito al Museo Carmen Thyssen Málaga
As early as the closing years of the 19th century, contemporary critics had described García Rodríguez as an artist who cultivated the "composed landscape", with intentionally picturesque scenes containing groups of typical figures enlivening and bringing dynamism to compositions always executed with great delicacy and detail. They were in considerable demand in middle-class circles (hence his popularity on the art markets not only of Madrid and Barcelona – cities he often frequented – but also abroad).
This small, evocative canvas is typical of Manuel García Rodríguez's production at Sanlúcar de Barrameda in Cadiz, a location very popular in summer with painters and holiday-makers, iconic with the pioneers of sea bathing, and a special favourite of those keen on the new ideas on healthy lifestyles. Like other painters also attracted by luminarism and connected with Seville, including González Santos, López Cabrera and, somewhat later, Santiago Martínez, García Rodríguez would spend ever longer periods in Sanlúcar, due mainly to the opportunities offered by the coastal rail link with Chipiona, Rota and Puerto de Santa María.
This painting shows a scene both eloquent and picturesque and doubtless studied by the painter in situ but later strategically recreated in the studio to emphasise the narrative behind the female figure, who, lost in contemplation of the sea and the sailing boats, gazes out towards the horizon. To the right, two donkeys with traditional harnesses stand in the shade of a tree by a farmhouse with shining whitewashed walls and an outdoor oven with a dome reminiscent of traditional North African hermitages. The scene descends from higher ground, where the main figure stands, towards the coast amid sunlit groves and farmhouses which must have been in the area near Sanlúcar, where the painter had a summer residence called "La Marquesita", or possibly some other recreational place on the Bonanza road.
The painting conveys the flavour of bygone summers with the scents of the seashore in combination with traditional rural life, light effects and Mediterranean spaces typical of a poetic sensitivity that was subsequently more explicitly developed by new generations of Andalusian artists.
Juan Fernández Lacomba