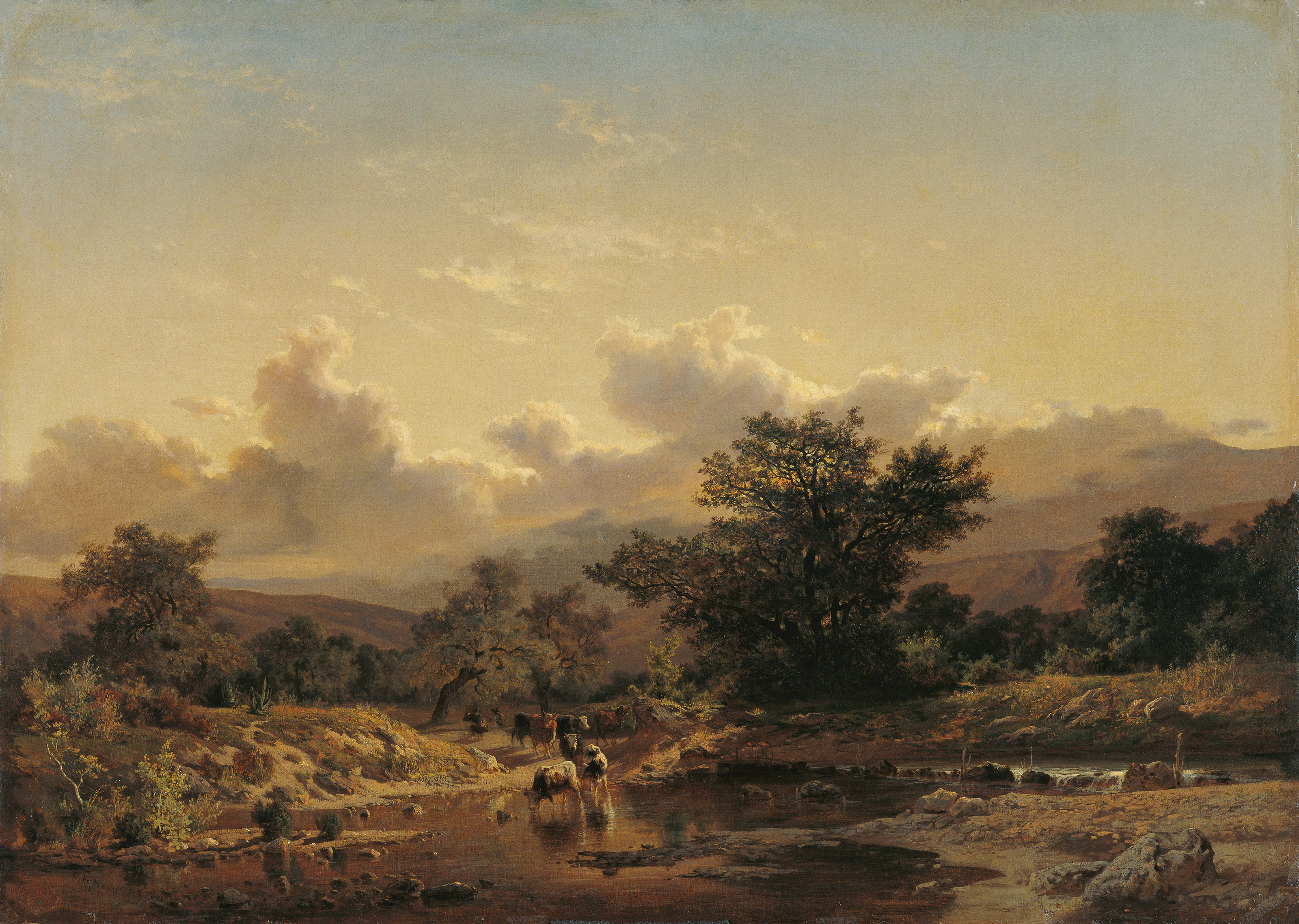 Landscape with Drove of Cows
1859
Oil on canvas

82.3 x 115.4 cm

CTB.1995.41

© Colección Carmen Thyssen-Bornemisza en préstamo gratuito al Museo Carmen Thyssen Málaga
At the foot of a mountain range, seen in the distance, cows graze as they approach to drink at the calm, clean backwaters of a river.
This attractive landscape is a very beautiful example of the great master Carlos de Haes's early work, with strong traces of his late-Romantic academic education still evident. The different elements forming the landscape are positioned in an orderly and perfectly balanced manner. Bathed in the golden light of sunset, they instil the scene with a serene, bucolic sense of nature in perfect harmony, even though the work was composed in the artist's studio (in all likelihood based on sketches from nature) with a precise, meticulous technique and special attention to detail. Nevertheless, whether in his treatment of the animals, the reflections in the water, the tones of the vegetation or the sky, there are already signs of the direct observation of nature which characterised the artist's mature work. In some areas he even allowed himself a certain looseness of execution that is spontaneous and supple overall, although still held in check by a finish of smooth surfaces and delicate transparencies. This, however, demonstrates de Haes's very keen sensitivity in rendering the infinite hues of the twilight over the landscape – a point of pride in all his work.
This painting also proves the decisive influence of Flemish and Dutch landscape painting in de Haes's early work; not only that of his contemporaries but more particularly of the great Baroque masters of the genre whom the artist would have been able to study on his travels through Europe in those years. Indeed, the importance assigned to the sky, which fills the whole upper half of the canvas, the predominance of earth-colours and ochre, and the central role played by the great masses of trees – laid out on different planes in conjunction with the perspective lines (thus endowing the landscape with a panoramic depth lost only in the distance of the cloud-capped mountains) – are all resources from 17th-century Flemish and Dutch landscape painting which de Haes made good use of here. Such traits are also distinguishable in other, similar landscapes, as in Paisaje con Río ("Landscape with River"), signed in 1858 and almost identical in size to this picture.
Executed shortly after de Haes returned to Spain from his travels, this painting could actually be the one he presented at the 1860 National Exhibition under the title Un país. Bélgica ("A Country. Belgium") together with Un país. Recuerdos de Andalucía, costa del Mediterráneo, junto a Torremolinos ("A Landscape. Memories of Andalusia, Mediterranean Coast, close to Torremolinos"), now in the Museo del Prado, which displays very similar aesthetic ideas. Indeed, both works boast their original, identical frames.
José Luis Díez