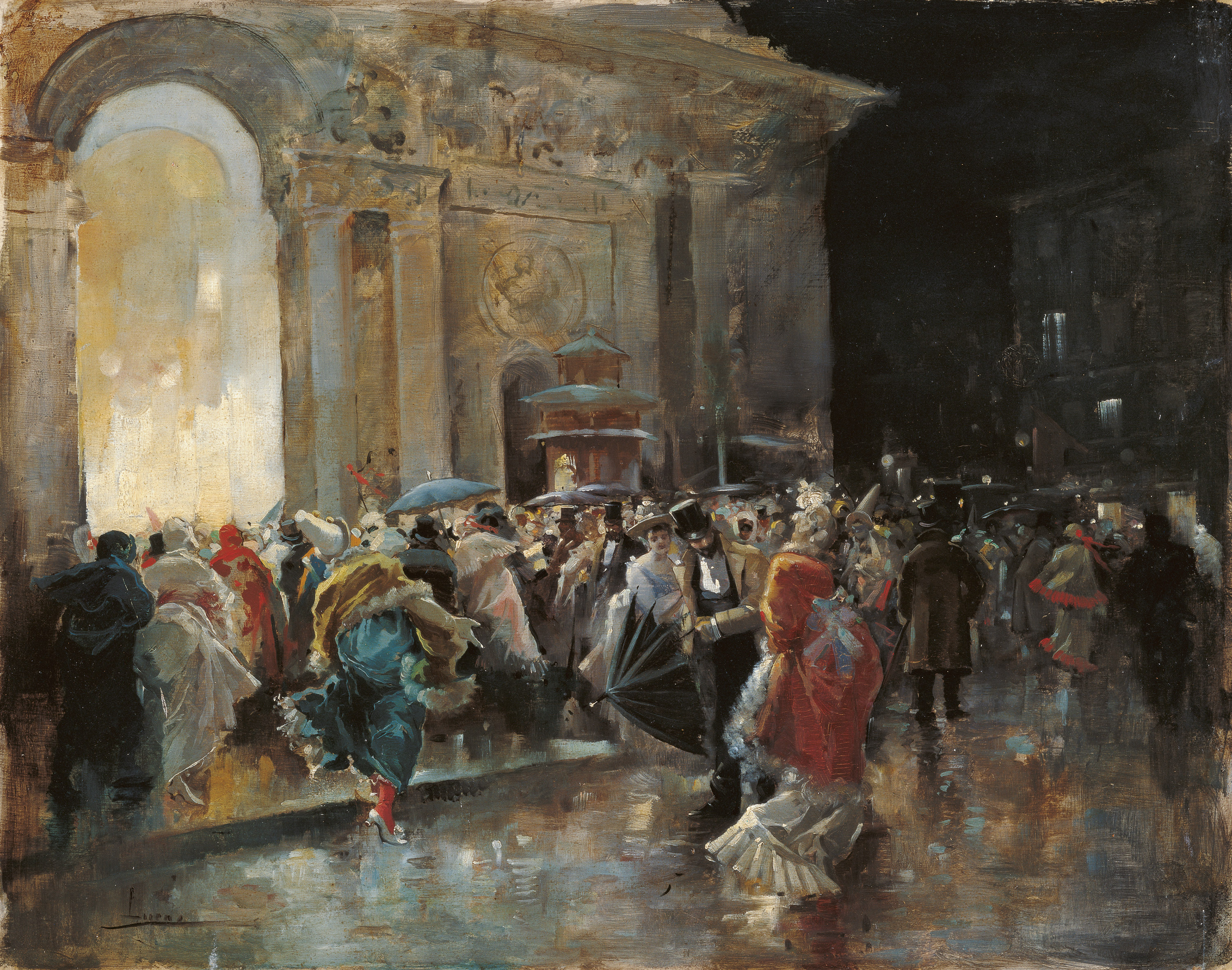 Arriving at the Theatre on the Night of a Masqued Ball
c. 1895
Oil on panel

31 x 40 cm

CTB.1996.69

© Colección Carmen Thyssen-Bornemisza en préstamo gratuito al Museo Carmen Thyssen Málaga
Of the vast production of genre paintings that spans Eugenio Lucas Villaamil's career, particularly interesting are his urban scenes and, more specifically, his street scenes with ordinary, everyday themes. These are almost always frivolous and festive in style and revolve around figures from high society during moments of entertainment in public.
This scene with a markedly Parisian air (recreated in the artist's imagination) is set on a rainy night outside a theatre with an imposing façade. At the doors, the guests at a masked ball gather. The ladies draw their cloaks around themselves to keep the rain off their striking costumes and take shelter under the umbrellas of their male companions, intent on getting quickly inside, where the lighting for the occasion is almost blinding.
Here, as in most scenes like this one set at night, the subject served as a fine excuse for the painter to exhibit his skill in depicting artificial light bathing buildings and reflecting off wet pavements, in contrast with the dark, inclement night.
Furthermore, Lucas Villaamil demonstrated his mastery when it came to rendering crowds of people in motion (a true speciality where this artist is concerned). The figures were formed with extremely rapid, nimble strokes that sketchily define their outlines, thus increasing the sensation of haste and agitation as they hurry to shelter from the rain (with the result that the splendour of their costumes can barely be glimpsed). The artist's synthetic methods are even more extreme and evident in the representation of the theatre's architectural elements and the wet street, painted here with broad, vigorous, thick and very effective brushstrokes, although he never paused to correct the drawing. This was very typical of Lucas Villaamil and explains why scenes of this kind, which he found easy to sell on the contemporary market and generally repeated only with slight variations, as their success was guaranteed, are so prolific in his work.
José Luis Díez