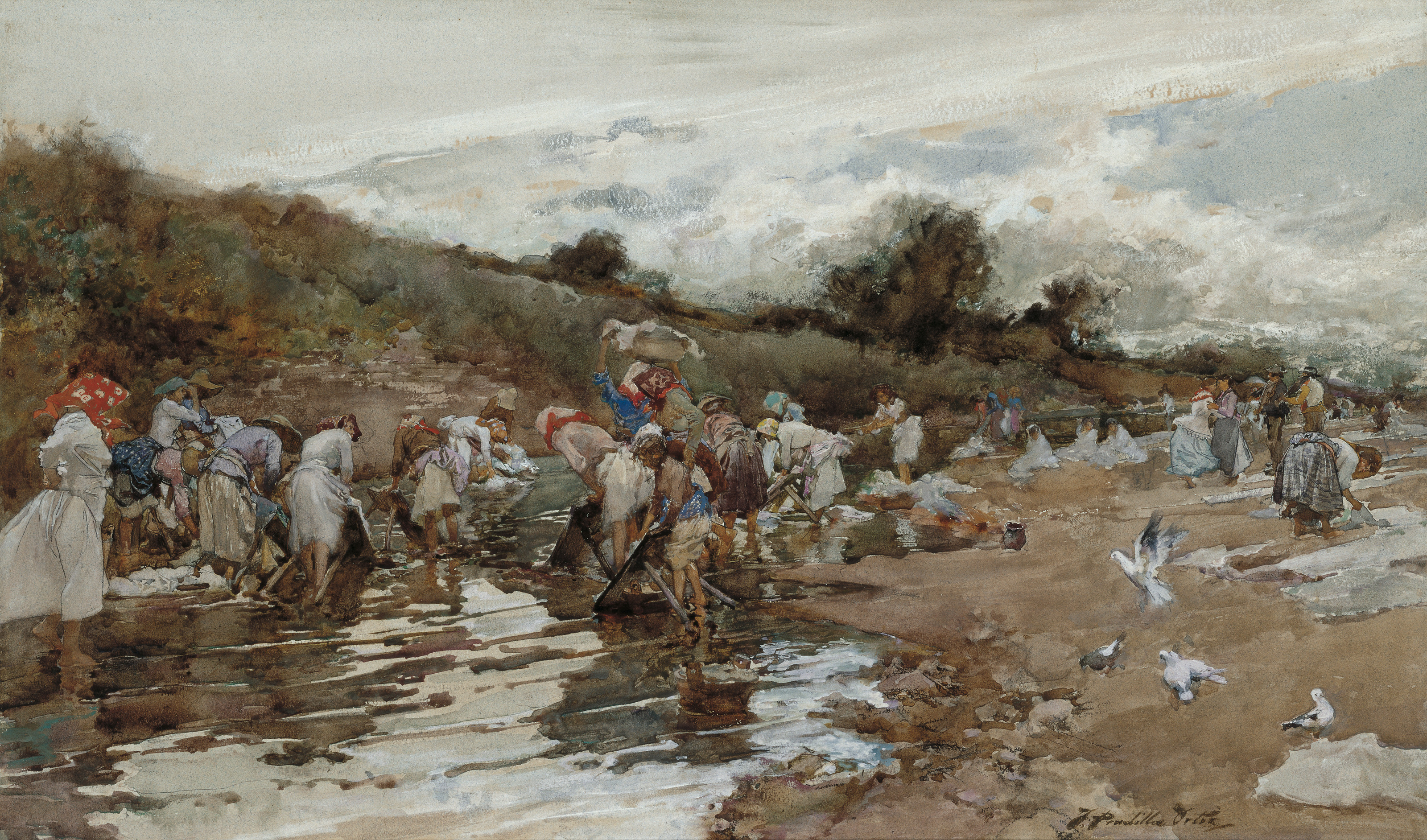 Washerwomen at the River
1913
Watercolour and gouache on paper

26 x 43.5 cm

CTB.1995.63

© Colección Carmen Thyssen-Bornemisza en préstamo gratuito al Museo Carmen Thyssen Málaga
Dated in Madrid in 1913, this extremely beautiful work is a fine example of the absolute mastery achieved by Pradilla with watercolour and gouache, a technique which allowed him even greater expressiveness than oil painting.
This work from the artist's mature period depicts a busy group of washerwomen with washboards and piles of clothes down by the quiet waters of a stream. Instead of staying at the edge, they have walked into the water and the unusual kind of washboard with legs they are using enables them to work standing up instead of kneeling down. More young women can be seen all along the bank, resting or spreading out their now clean clothes on the ground. Two dance to violins played by two musicians.
Although Pradilla was known basically as one of the greatest Spanish painters of historical scenes, a very important part of his production consists of genre pictures, almost always with large numbers of figures generally engaged in group activities of what can be loosely defined as a rural character – as at markets, picking grapes or harvesting crops – and always captured with astounding skill. The atmosphere of plein air landscapes was one of the artist's great specialities, as this watercolour proves. Indeed, the cloud-filled sky, the reflection of those clouds in the quiet water of the stream and the infinite tones of the greenery are achieved in a light, diluted way, with superimposed transparencies making contours indistinct. This in contrast with the precision of figures captured in a wide variety of movements and attitudes and modelled much more roundly and with sharper outlines (indeed, the pencil marks can still even be seen in some). All of this is testimony to the close attention to detail so typical of précieux realism, in which Pradilla's personality as an artist was forged. It is also the result of extraordinary keenness of vision and a special capacity for observation, in addition to an exceptional gift for painting, which would come to be known as the "Pradilla style".
Despite being dated in Madrid, this appears to be a Galician scene, probably sketched from life and finished in the studio.
José Luis Díez