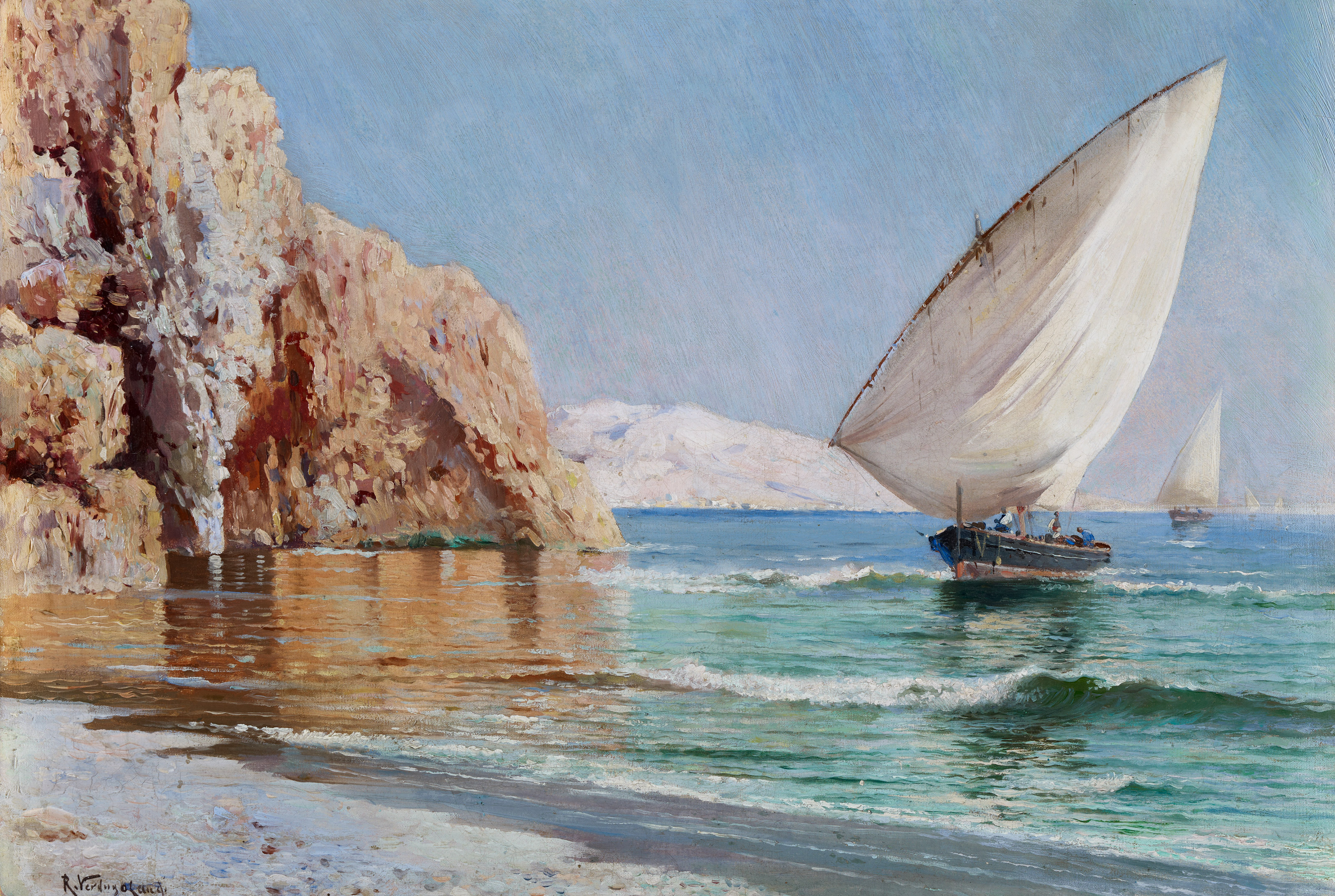 Boats Arriving
c. 1910–1920
Oil on canvas

25 x 35 cm

CTB.1998.79

© Colección Carmen Thyssen-Bornemisza en préstamo gratuito al Museo Carmen Thyssen Málaga
Ricardo Verdugo Landi was one of the best marine painters in the art circles of Malaga. His style combined those of Emilio Ocón and Muñoz Degrain and he interpreted the sea and its coasts from the point of view of the form of modernity which came with the regenerationist aesthetics advocated by the Free Teaching Institution and the Generation of '98.
His contribution to the "institutionalist" landscape consisted of research into the light of his native Malaga, and it is because of this that he is associated with the aesthetics of "Mediterraneanness". As a result, he developed a vision of the sea, light and the Malaga coast which, although imbued with the sobriety of the Muros de Nalón School and the Basques of the Generation of '98, lost not one iota of its local personality.
Boats Arriving was conceived under those conceptual conditions, in this case enriched by the narrative suggested by the sailing vessels, whose movement acts as an element of contrast with the static nature of the rock and the virtual immobility of the sea.
However, we have said that Verdugo combined the two points of interest that developed vis-à-vis landscape painting at the end of the 19th century and in the early decades of the 20th century. In his honest approach to producing a truthful record of territory, environment and space, he could not dispense with tonal effects. In this search for a definition of the local environment in Malaga, it was indispensable to codify tone starting with light and thus bring the luminarist factor into play.
Ortega said in those years that to arrive in Malaga was to enter the empire of light. At that specific time, official municipal circles were beginning to draw up the key factors that defined the city, which had traditionally been regarded as a kind of paradise throughout its history. One of these defining factors was bright light as synonymous with climatic quality: the characteristic Poniente light which wipes the sky clean and turns it into a vast blue vault radiating vitality and optimism and transforms the sea into a mirror throwing extreme light onto objects or geographical features. This was the light Verdugo chose for his work; through the efficiency of this treatment and the materiality of the colour and brushstroke, it becomes the true theme of the work.
If we are to understand the painter's full exercise of modernity, one other important point in this picture is the identification of the sailing boats. They are jábegas, traditional Malaga vessels of Phoenician origin which characterise local fishing methods and bring a "personal" note to the image of the coasts.
A certain degree of "literaturisation", a desire for identification, representative meticulousness and scientific research into territory/space plus a certain load of emotional content expressed through opting for a palette with tones evoking poetic sentiments make this work an excellent example of early 20th-century Spanish modernist landscape painting.
Teresa Sauret Guerrero