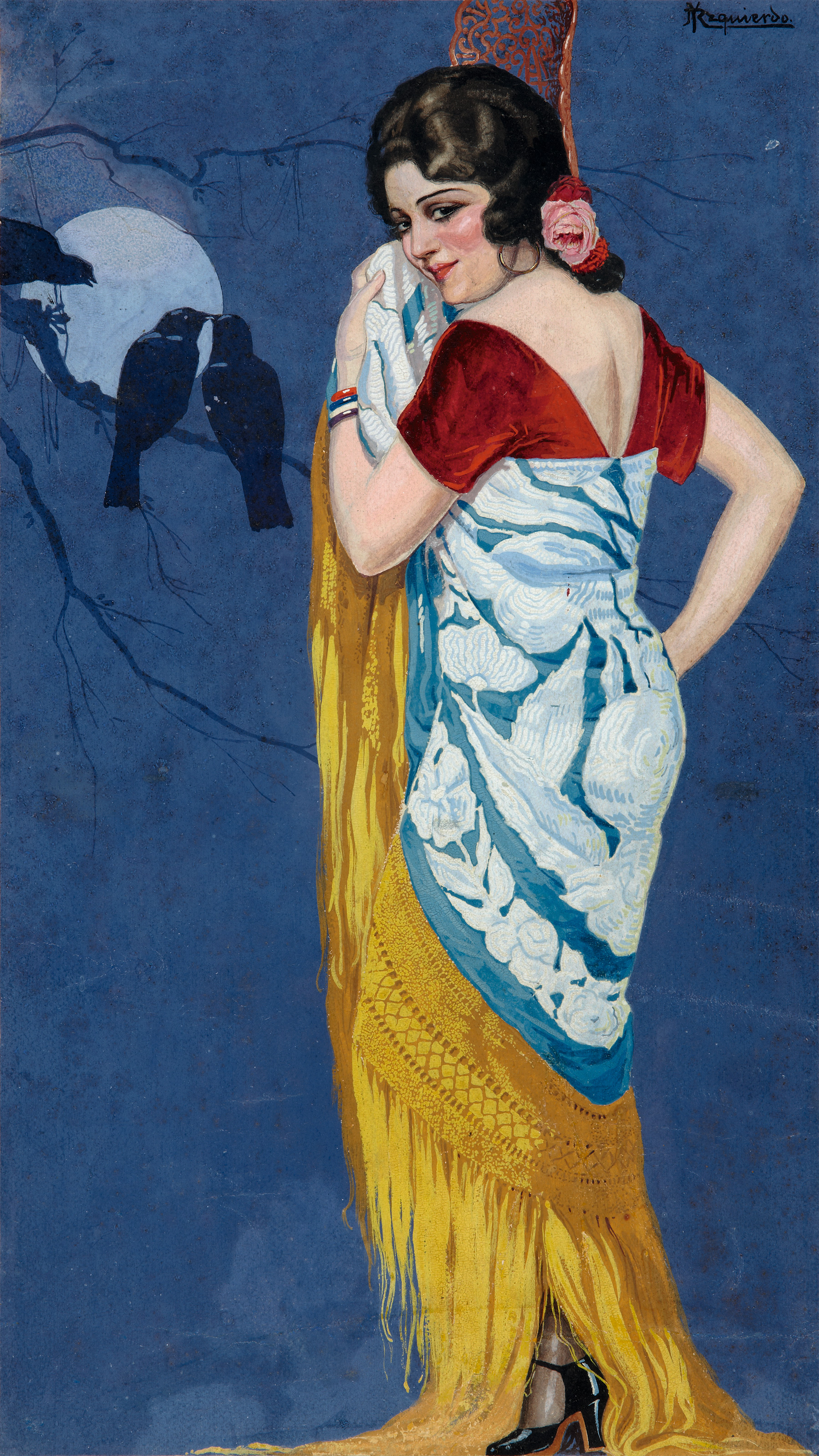 Young Woman Smiling in the Moonlight
c. 1925-1931
Gouache on paper

41 x 24 cm

CTB.1997.106

© Colección Carmen Thyssen-Bornemisza en préstamo gratuito al Museo Carmen Thyssen Málaga
Like Young Woman with Shawl, this painting is markedly illustrative, but different in that it is more difficult to attribute to a specific message for a company or festive event. It could also possibly be considered an illustration for a magazine cover or a literary work of the kind to which Ramón José Izquierdo y Garrido contributed as a critic. Certain iconographic details, particularly the shoes, allow us to date the work at around that time in his life.
The painter's obvious satisfaction with capturing detail and the almost portrait-like character of the figure display a clear predilection for a realist aesthetic which is adulterated by some of the processes typical of the techniques of illustration. This recalls a Revue Moderne des Arts review on Izquierdo of October 1922: "Here is a sincere painter whose free and independent technique does not recoil from audacity of any kind. His works [...] are of great pictorial truth and robust facture. Ramón Izquierdo complies with no school, nor does he restrict himself to any formula [...] and he lives solely for Art in an unceasing endeavour to achieve the ideal that he has forged for himself."
Both the full-length figure, emphasised by a certain sensuousness very typical of the age, and the scrap of landscape – which adds the finishing touch to the composition and is stylistically related to modernist figurative methods – possess a high degree of ambiguity that makes it difficult to fathom the meaning of the picture and, above all, the purpose for which it was painted.
Eduardo Alaminos López