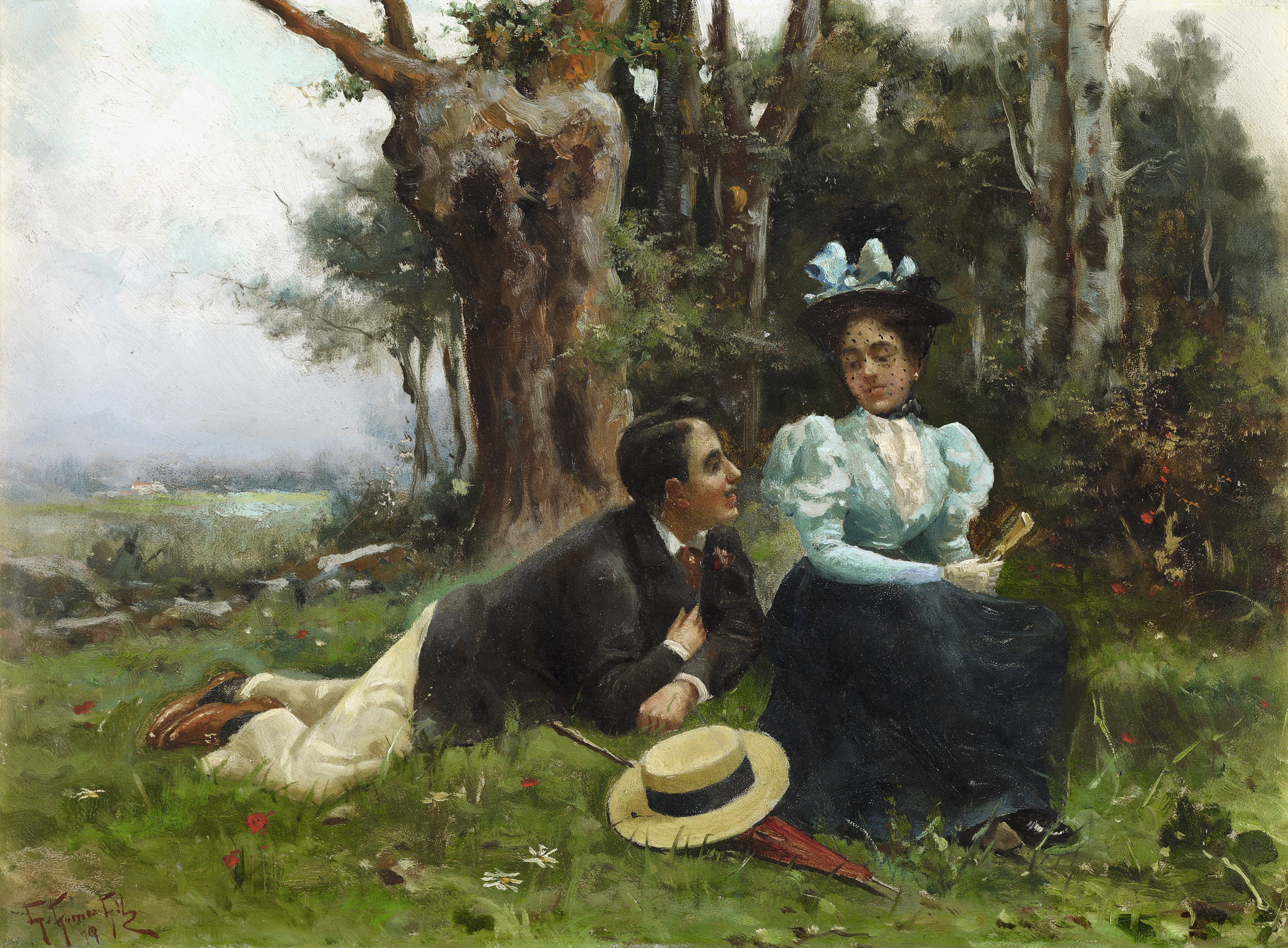 Courting in the Country
c. 1896
Oil on panel

31 x 41 cm

CTB.2009.24

© Colección Carmen Thyssen-Bornemisza en préstamo gratuito al Museo Carmen Thyssen Málaga
A young couple rest near a wood of cork oaks in a large expanse of open countryside with a small rural structure far away in the background. The young man, whose trousers are light in colour, has placed his boater on the ground on top of his companion's parasol. The smart but almost sporting apparel of the former, who is dressed for promenading, is well matched with the dress of the latter, who converses with her congenial companion as he stretches out on the ground in a gesture of familiarity. The attitudes of both leave no room for doubt that this is a courting scene in which the young man is attempting to win the lady's love.
Possibly painted during Gómez Gil's Madrid period, this is one of the few known examples of the Malaga painter's then purely commercial interest in art, depicting scenes from middle-class life. Among the large number of works by this painter in the Carmen Thyssen-Bornemisza Collection is one other interesting example of this kind of scene: A Walk in the Park of 1896.
Gómez Gil was taught by Ocón to be an attentive seascape painter and devoted himself almost exclusively to a form of decorative realism which he shared with other painters of his generation. This picture also reveals his training as an artist of landscapes in the broadest sense of the word. Here he concentrated all the interest on the pictorial qualities of nature, bathing the scene in a cool, dull light in order to modulate the vegetation in the manner of the great Spanish landscape artists of his time.
More similar to a bozzetto, this painting reflects the contemporary taste for small, unfinished-looking pictures painted with rapid strokes that became so fashionable with the petit bourgeois market of the late 19th century. Furthermore, the two complicatedly foreshortened figures bear witness to the painter's limited knowledge of drawing and the considerable effort necessary for him to achieve the right proportions.
Carlos G. Navarro