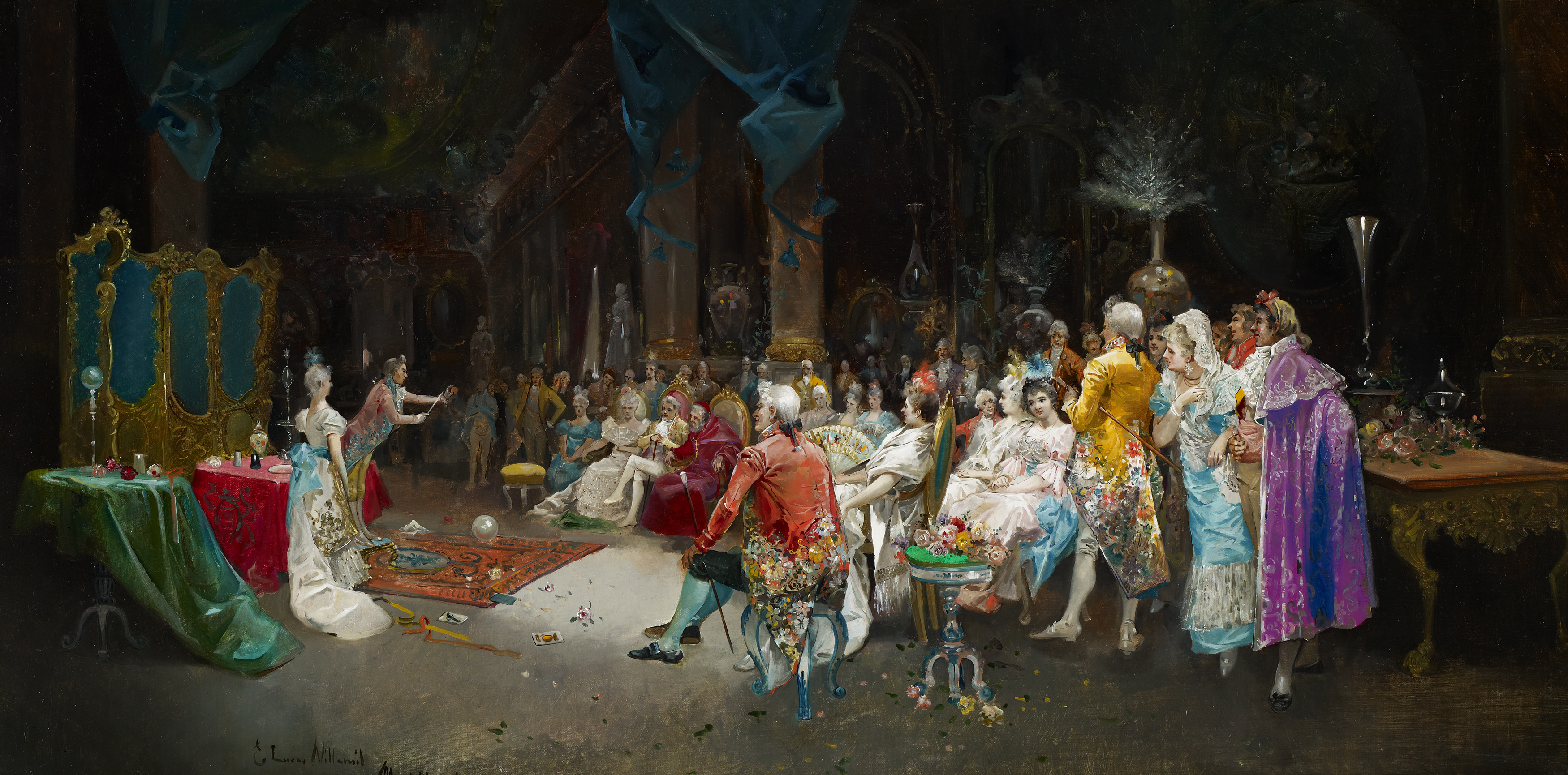 The Magician at the Palace
1894
Oil on canvas

55 x 110 cm

CTB.1995.160

© Colección Carmen Thyssen-Bornemisza en préstamo gratuito al Museo Carmen Thyssen Málaga
Among Eugenio Lucas Villaamil's very assorted – and sometimes almost diametrically opposed – pictorial facets, outstanding are his "casacón" or "dress coat" style of paintings, which were set in highly elaborate Rococo halls and catered to the tastes of a wealthy bourgeois clientele as late as the dawn of the 20th century, despite the fact that the genre had been sharply in decline all over Europe for many years. In these paintings Lucas Villaamil used all the splendour of monumental architecture, luxurious ornamentation and the rich colour of clothing to achieve an almost overwhelming degree of spectacularity that is unquestionably attractive for its decorative qualities (which on many occasions drew the attention away from the artist's customary technical carelessness).
In these two paintings, with the compositions in the manner of pendants, the artist depicted court scenes during a palace gala supposedly in the reign of Charles IV.
Thus, in the first canvas, a group of guests arranged in an open semi-circle watch two couples dancing to a rondo played on a harpsichord visible on the far right. In the background, at the centre of the room, the hosts can be seen, with a bishop and a cardinal to either side. With the arrangement to the opposite side, in the companion canvas the guests watch a conjurer and his assistant. Visible on the floor are a number of playing cards and other tools of the magic trade.
Despite the deep gloom of the palace's interior in both scenes, the figures stand out vividly, for Lucas Villaamil highlighted all the brilliance of the garments with their vibrant colours and luxurious design so that they could not fail to seize the spectator's attention. Indeed, the embroidery of the dress coats, the sheen of the satin and the ornamental details of the furniture are depicted with extraordinary delicacy – in contrast with the much scantier detail of the carpets and architectural elements. However, the artist cared little about anachronisms arising from fashions and uniforms – to the extent that he included the working-class figures of a chispero and a manola at this high-society gathering to reinforce the idea of the Spanish aristocracy's purported populism during the Goya's time. In this way he was able to introduce the largest possible number of focuses of attention while underlining decorative and anecdotal values, achieving this, despite everything, with a grand scenographic approach to space.
José Luis Díez