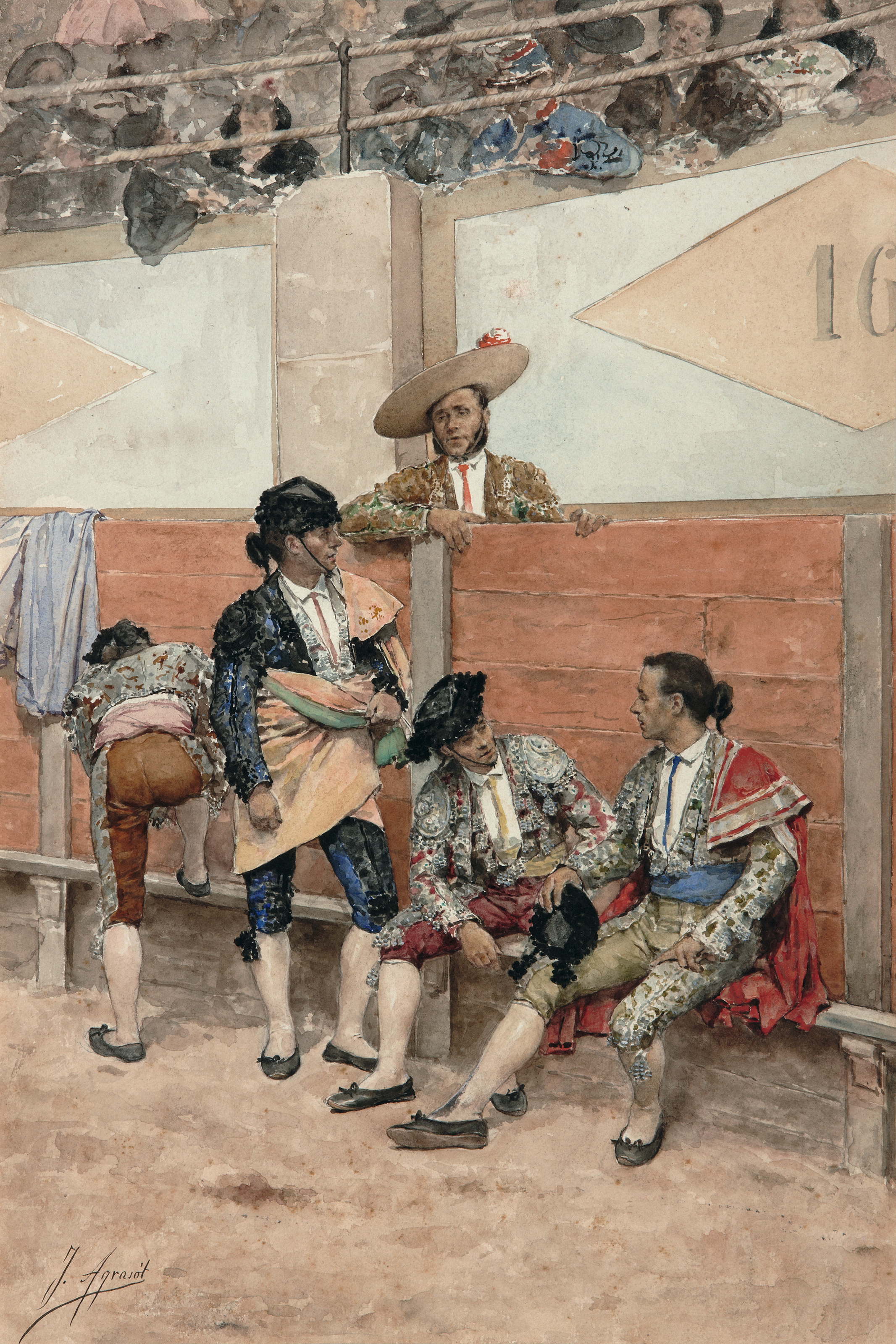 A Rest During the Bullfight
1881
Watercolour on paper

47 x 31 cm

CTB.1995.70

© Colección Carmen Thyssen-Bornemisza en préstamo gratuito al Museo Carmen Thyssen Málaga
Entitled Lagartijo con su cuadilla ("Lagartijo and His Team") when it appeared on the market, this work shows a group of bullfighters engaged in conversation at the edge of the ring waiting for the first bull to be announced; Rafael Molina, "Lagartijo", is perhaps identifiable on the right of the composition. The figures in the foreground of the painting, some seated on the ledge, are perfect portraits painted from life, probably on the day of the bullfight. Agrasot evidences his knowledge and love of the art of bullfighting in his skilful study of the costume of the bullfighters and also of the picador, who is the space between the barriers.
In addition to this watercolour, another known painting by the Alicante-born painter is Antes de la corrida en la plaza de toros de Valencia ("Before the Bullfight in the Valencia Bullring"), which was shown in the Paris Exposition of 1878 and was acquired by a Viennese private collector. It depicts the run-up to a bullfight, what goes on behind the scenes before the bullfighters make their ceremonial entry. There is an engraving of this painting in La Ilustración Española y Americana (5 May 1880, p. 293). The Terol de Solís Collection also featured – among other paintings by Agrasot – a portrait of Rafael Molina brindando la muerte de un toro en la plaza de Valencia ("Rafael Molina dedicating the kill in Valencia Bullring"), a print of a painting entitled El brindis which was published in the journal Ilustración Artística (4 July 1892).
This watercolour is most likely the one referred to by the Baron of Alcahalí as "En la plaza. Grupo de toreros antes de empezar la lidia. Acuarela" ("In the Bullring. Group of Bullfighters before Starting the Fight") and again as "Descanso en la corrida de toros. Acuarela, pintada en 1881" ("Rest during the Bullfight. Watercolour, painted in 1881") in the monograph written by Antonio Sequeros. In addition, a drawing of this painting was published by Almela and Vives (together with the portrait of Lagartijo) in Valencia atracción in August 1961; this drawing was probably based in turn on an illustration published during the first year of existence of the magazine Ilustración Artística (October 1882), where it is signed and dated Valencia, 1881, and where this illustration is stated to have come from a watercolour. It should be pointed out in this connection that the illustration referred to, in addition to providing information about the date and place where it was executed, is more developed in the left part, as the cape leaning on ledge is more visible, as is a number five on the rhombus decorating the wall. What is more, Lorenzo Hernández has recently drawn attention to the connection between this watercolour and José Villegas's El descanso de la cuadrilla ("Bullfighters Resting"), an oil painting on panel (56 x 40 cm) of 1870, located in a private collection.
Vicente Samper