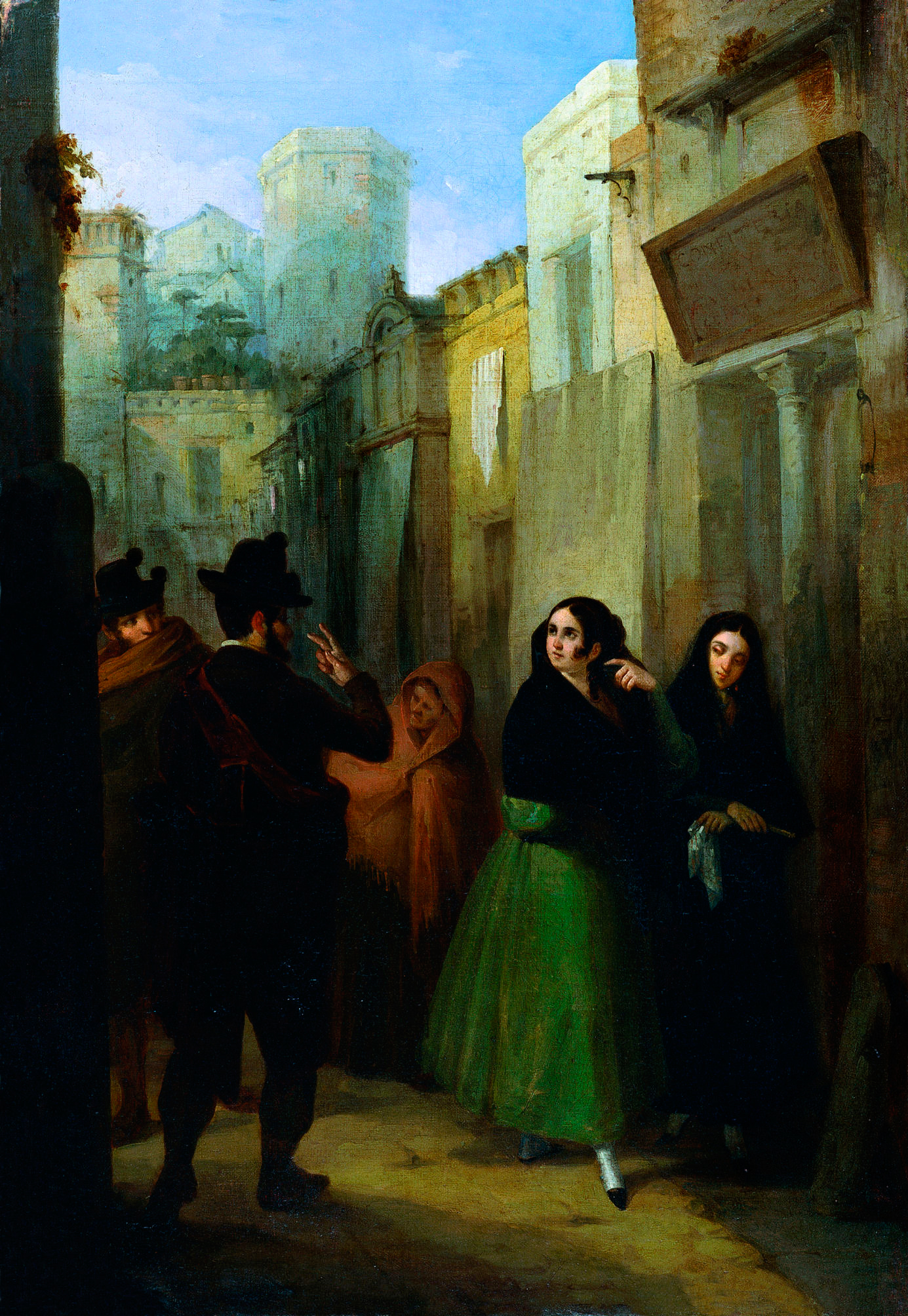 Rendezvous in the Street
1841
Oil on canvas

69 x 47 cm

CTB.1995.40

© Colección Carmen Thyssen-Bornemisza en préstamo gratuito al Museo Carmen Thyssen Málaga
Two young women draped in black mantillas make their way along a narrow alleyway followed by their stooping elderly duenna. On passing a sweet shop, whose half-legible sign is displayed over the door, a couple of dashing majos muffled in cloaks, standing at the opposite corner, make signals to them to indicate that both are required, no doubt for a later rendezvous.
The painting forms a pair with Indoor Dance and both works are good examples of one of the simpler types of popular Andalusian scenes produced by Joaquín Domínguez Bécquer. This type of scene is characterised by fewer figures, a smaller size and almost always vertical format, and a simpler and less ambitious composition compared to his most celebrated grand panoramic views filled with figures, of which the Carmen Thyssen-Bornemisza Collection also owns prominent examples.
These very early paintings in his output attest to the painter's fondness for a sober palette of abundant ochres and, especially, blacks that would characterise much of his oeuvre. They also evidence the importance he attaches to the setting in which the scenes unfold. Here Bécquer produces an elaborate architectural perspective view of an alley in a city, no doubt Seville, that is somewhat unnatural and dwarfed by the proportions of the human figures, who scarcely have room to make their way through the narrow space of the street. In this regard it is very interesting to note the artist's technical handling of the façades of the buildings, which he tinges with coloured glazes and bitumens to give them an aged appearance, accentuating their picturesque flavour.
José Luis Díez