Educational
Museo de verano. ¿¡Qué cuento tienes!?
From June 28 to July 22, 2022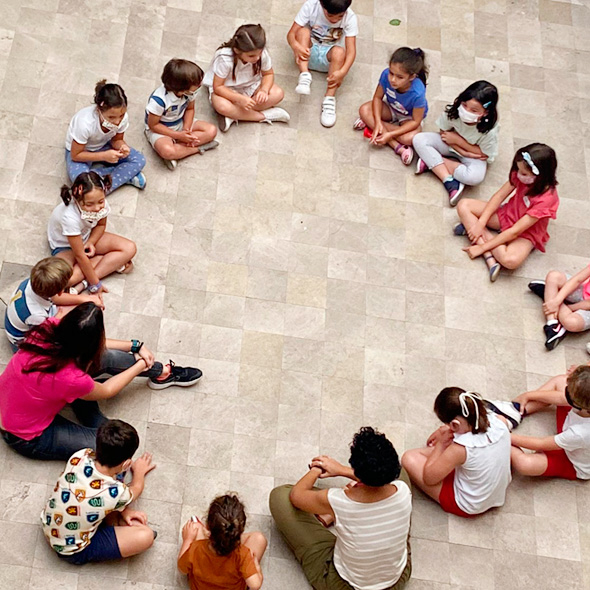 ¿¡Qué cuento tienes!? es la actividad de verano 2022 del Museo Carmen Thyssen Málaga dirigida a niños y niñas de 5 a 12 años.

Durante cuatro días, conoceremos el poder de las narraciones y sus diferentes formas de expresión jugando con la literatura, la ilustración, el vídeo, la música, el teatro de marionetas y de gesto, entre otros formatos.

Mediante dinámicas colaborativas y respetuosas con el desarrollo de los/as niños/as pondremos en práctica diferentes talleres para explorar juntos/as las posibilidades creativas a la hora de contar una historia.

Days and times:

Grupo 1 (de 5 a 8 años). Del 28 de junio al 1 de julio Reservar
Grupo 2 (de 7 a 12 años). Del 5 al 8 de julio Reservar
Grupo 3 (de 5 a 8 años). Del 12 al 15 de julio Reservar
Grupo 4 (de 7 a 12 años). Del 19 al 22 de julio Reservar


Horario: de 10.00 a 14.00h

Information and enrolment:

952 21 76 79 / Inscripción online a partir del viernes 20 de mayo.

Price:

24 euros por participante
21 euros por participante (precio reducido para Familias numerosas, Amigos del Museo)

Participants:

Niños y niñas de 5 a 12 años.

Reserve
A partir de la exposición temporal Real(ismos), aprenderemos juntos/as que la construcción de relatos ha sido siempre clave para el desarrollo personal y de las comunidades.