Educational
DISLOCADAS. Danza en sala
From 24 to February 24, 2018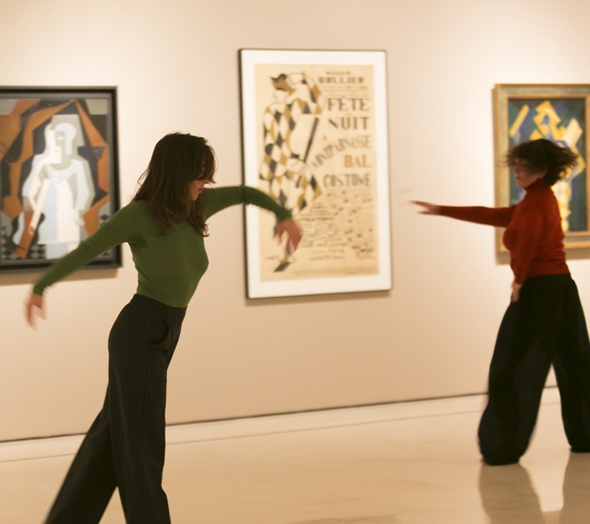 Acción participativa de danza para público familiar con las bailarinas contemporáneas Vanessa López y Rebeca Carrera que intervendrán diferentes espacios del Museo. La actividad se plantea como colofón al trabajo educativo interdisciplinar realizado con la exposición temporal "Juan Gris, María Blanchard y los cubismos".

Days and times:

24 de febrero

A las 12:00h

Duración: 1 hora aprox.

Information and enrolment:

Inscripciones a partir del 12 de febrero en horario de 9h a 15h.

Teléfono 952 217 511

Price:

Actividad gratuita previa inscripción

Participants:

Recomendada para niños/as a partir de 4 años acompañados de sus familiares o adultos/as responsables. Máximo, 30 participantes.
DISLOCADAS es una intervención artística en la que el lenguaje de la danza confluye con el de la pintura para sugerir nuevas formas de comprensión y expandir los límites de la interpretación visual.
En un primer momento, la danza se desarrolla en la sala expositiva, donde dos formas en movimiento se interrelacionan a distancia sobre un fondo sonoro compartido:
En el mundo de las formas perdidas, los trazos se enredan y los colores se escapan de sus sueños. Se cansaron de ser lo que son y quieren reinventarse. Perdidas como estaban, se dieron cuenta de que necesitaban de la mirada de los otros para encontrarse. Así, transformaban sus apariencias en imágenes renovadas. Realidades nuevas que impulsaban a la acción.
En un segundo momento, la intervención se extralimita y resurge en un escenario opuesto para reivindicar una libertad que acabará involucrando a los participantes en el juego de la expresión.