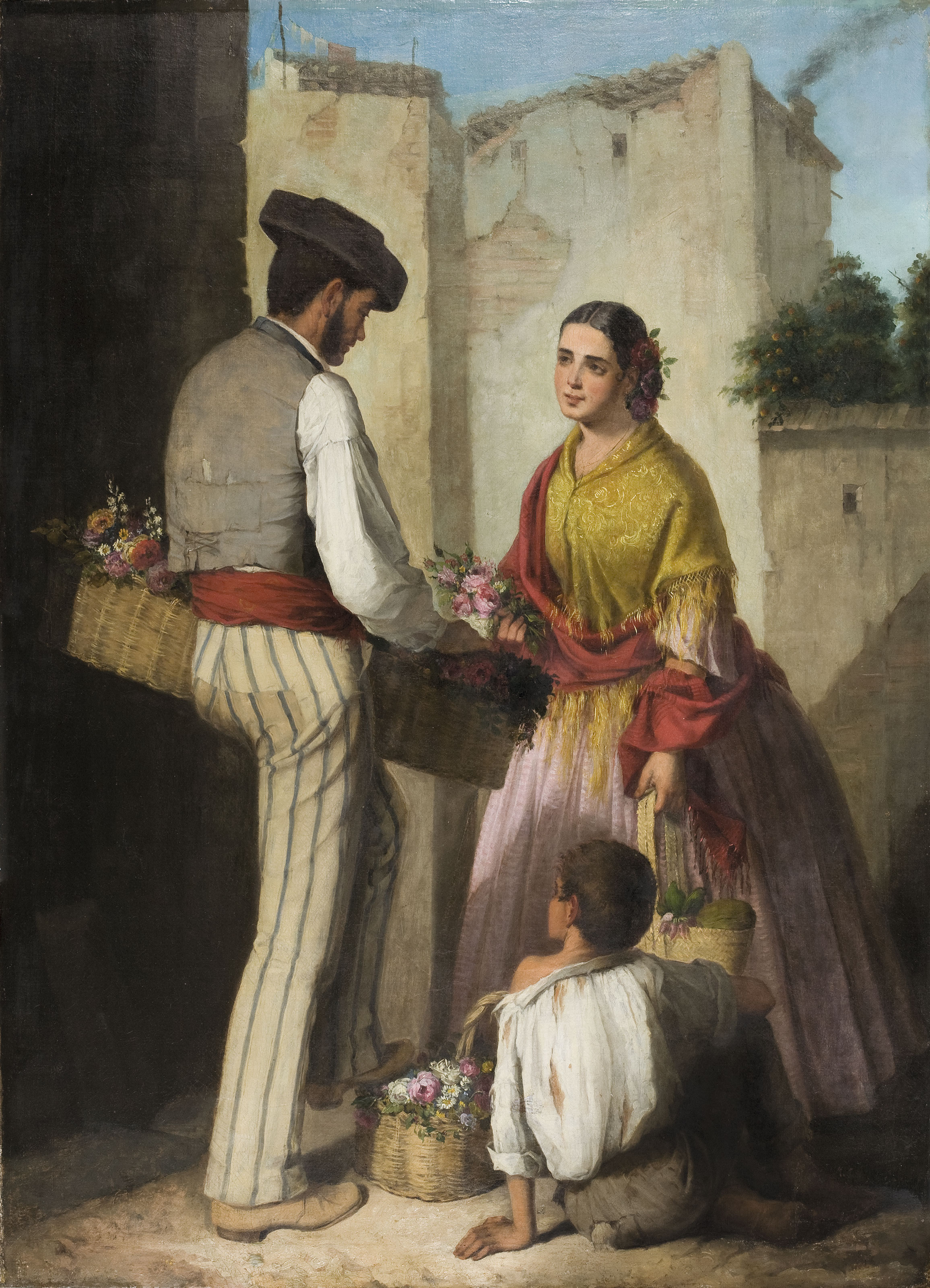 Flower Seller
c. 1864
Oil on canvas

104 x 79 cm

CTB.2013.10

© Colección Carmen Thyssen-Bornemisza en préstamo gratuito al Museo Carmen Thyssen Málaga
This painting displays the clear, well-defined characteristics of the style typical of the Seville Romantic painter José Roldán Martínez (1808–71), who was a noteworthy exponent of paintings in which figures fill most of the canvas while an undefined urban background reveals the spirit of mid- 19th century popular Sevillian architecture. At that time Seville had still not undergone the far-reaching changes of the final years of Romanticism which coincided with the end of Isabella II's reign.
Many similar paintings featuring working-class folk in a pleasant, simple environment can be found in various private Seville collections, above all in the possession of the artist's heirs. This one shows a street scene with a flower seller showing his wares to a beautiful young woman. The circumstances give rise to a pleasant conversation between the two which suggests a scene of flirtation, as the flower seller appears to be praising the young woman's beauty, without doubt comparing it to that of the flowers in his baskets. The girl is not immune to the seductive words of the handsome flower seller, for she looks at him with pleasure and in a friendly manner, happy to listen to his compliments.
The scene also contains a child in a torn shirt sitting on the ground and looking on, although it is impossible to say what his relationship with the flower seller or the girl is. As regards this boy, it so happens that one of the painter's heirs in Seville recently found a preparatory study for this figure among some drawings. It was signed and dated by José Roldán in 1864, thus making it possible to attribute this painting to the artist with total certainty. Roldán often included young lads playing together in the city's outlying areas in paintings recalling Murillo's mischievous children of the late 17th century.
Interesting in this painting is the study of the garments worn by the figures, as they reflect the working-class fashions of mid-19th century Seville (around 1855– 60), when this picture is believed to have been painted. Thus, the handsome flower seller wears modest but dignified garments, from the catite hat on his head, to his white shirt, grey waistcoat, tight striped trousers and boots. Logically the artist attempted to make the girl's garments as bright and colourful and eye-catching as possible, as indeed is the case with her yellow blouse, red shawl and pink skirt. Noteworthy too is the flower in her hair, which further enhances her beauty.
Among the most successful details in this painting are the bunches of flowers in the seller's baskets. They reveal the artist's special skills at producing canvases with splendid floral arrangements.
Enrique Valdivieso