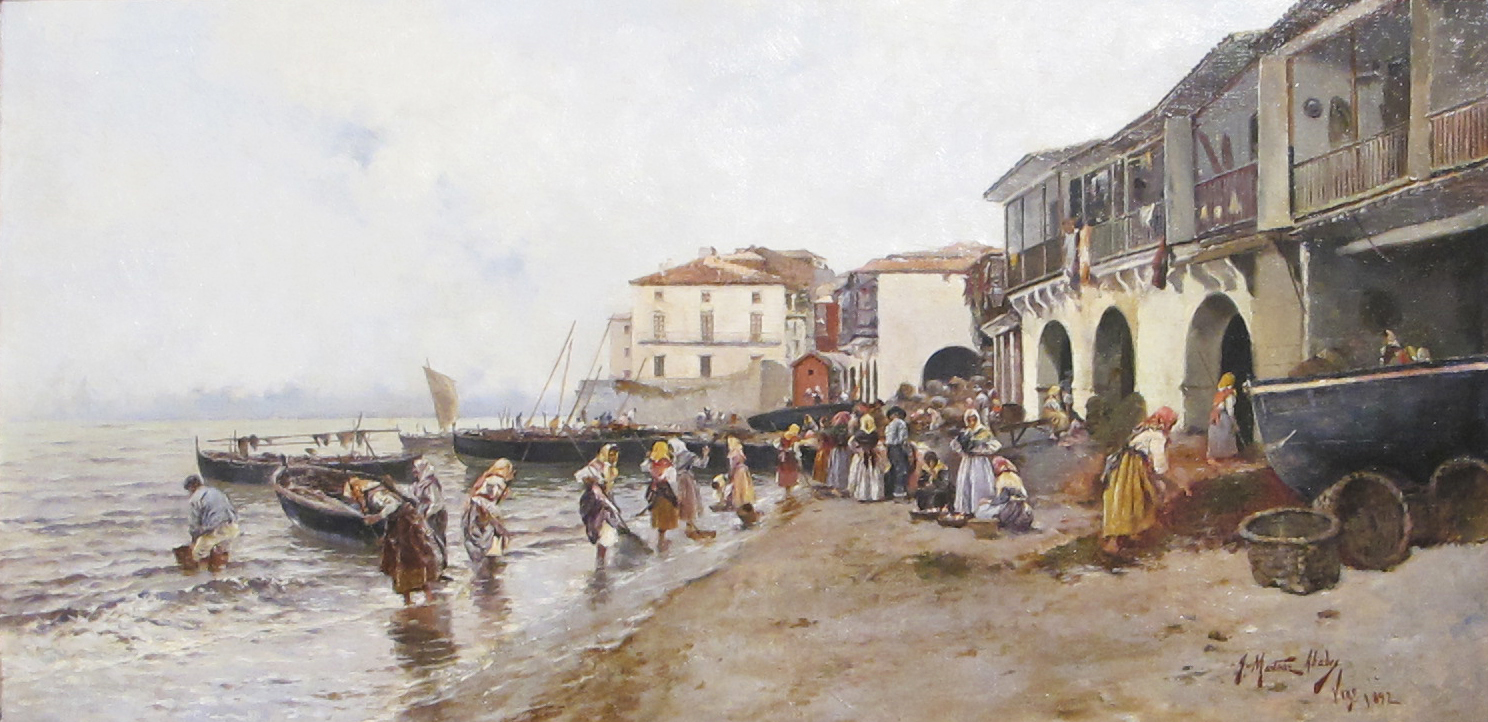 Gathering Seaweed on the Banks of the Berbés, Vigo
1892
Oil on canvas

41 x 76 cm

CTB.1994.46

© Colección Carmen Thyssen-Bornemisza en préstamo gratuito al Museo Carmen Thyssen Málaga
This painting depicts a marine scene set in Vigo's La Ribera district, popularly known as Berbés, in the west of the city on the small cove of San Francisco. On the right there are typical fishermen's houses, built above porches with semi-circular arches, their upper floors opening onto passages projecting over strong stone corbels. Nets or, as here, clothes, were hung over the wooden balustrades to dry in the open air. Typical of the architecture of Mariñas, this kind of construction is also found in Vigo, Noya and Muros.
As seen on the right, the arcades served to protect the fishing gear from the rain. To the left, several women stand on the water's edge and, a little further in, a man; all are busy gathering seaweed (also known as sargasso) to lay out to dry on the right, next to the boat and the large baskets.
In the middle ground are more women – three next to some baskets of fish, two sitting on a bench, and several others in a group with a seaman. They seem to be busy with an occupation common in that district, which was buying fish wholesale, salting it and then reselling it retail. In the background some fishermen are disembarking with another group of women. The accumulation of dead fish there caused a stench which many travellers, including George Borrow, and a number of local writers were prompted to remark upon.
Without a doubt the hustle and bustle at La Ribera drew the attention of Martínez Abades, who here managed to capture its picturesqueness. Shortly after – in 1897 – the dirty beach area was transformed into a stone dock, complete with ramps, for boats to moor and unload fresh fish.
Martínez Abades had gone to Galicia in his return from Italy in 1890, visiting, among other places, the cities of Corunna, where his brother Luis lived, and Vigo, whose port he depicted in a small panel dated that year. August, September and October 1892 found him again in Vigo, busy with his pupil Luis Suárez Llanos working on six large paintings for the main hall of the Gymnasium, a recreational facility founded in 1881.
The main theme in this painting is the gathering of sargasso seaweed (known in Galicia as ceba) washed up by the sea. Used as fertiliser in the fields, it was gathered in September, when this picture was almost certainly painted. The sargas (gatherers) used anciños to rake the sand and nets called clamoeiros or ganopanes to drain the seaweed. A marine painter of repute, Martínez Abades often included motifs like these in his pictures. A contemporary illustration published in Blanco y Negro (no. 490, 22 September 1900) of a woman gathering seaweed has the following caption: "It is common on the Galician coast to see women gathering seaweed." Martínez Abades painted the same theme in 1904 in a picture entitled María de los Ángeles and again in a canvas of 1914 entitled Recogida de algas ("Gathering Seaweed"), which belonged to the Antonio González-Vigil Collection.
In this painting, the artist created a large empty space at the centre of the composition with the two lines of figures converging in the middle ground. His predilection for ochre tones and dirty greys as well as the dark colouring of the reflections on the water are typical features of his work of that period (superseded by a more luminarist approach to the atmosphere as the last decade of the century wore on). However, the way in which he reflected the white foam on the left of the composition demonstrates the skill and ease with which he painted the sea. Indeed, by this time he had been acclaimed by both public and critics as a great marine painter.
A good number of artists had drawn or painted the atmosphere at Berbés before Martínez Abades, one being Francisco Padilla, who produced drawings, watercolours and oils on the theme during trips to Galicia in the summers of 1871 and 1873. In 1873 the magazine La Ilustración Española y Americana published woodblock prints by Capuz of a number of Padilla's drawings and in 1874 the theme reached a wider audience when he won first prize in a competition organised by the magazine with a drawing entitled La Ribera de Vigo ("The Shore at Vigo") depicting a scene very similar to the one in this canvas. Other watercolour and gouache paintings from that time entitled Mercado ("Market") also dealt with the subject but most important of all is a canvas entitled Antigua ribera del Berbés de Vigo (Galicia) ["Old Shore at Berbés in Vigo (Galicia)"], which appeared on the Madrid art market a few years ago.
The Pedro Masaveu Collection possesses a canvas signed by Beruete which may date from his first period. It features the same theme but with a view of the other half of the beach extending westwards. Although it was later frequented by many 20th-century Galician painters, Berbés was also depicted in a number of 19th-century drawings, one of which, by Teodomiro Avendaño, was reproduced in a woodblock print by Capuz in La Ilustración Española y Americana (Madrid, 22 September 1874, p. 557). Other drawings include those by J. Ruiz (a print in La Ilustración Gallega y Asturiana, 8 August 1881) and Julio Riudavets (La Ilustración Española y Americana, 22 August 1886, p. 109). Serafín Avendaño subsequently produced illustrations of La Ribera for Blanco y Negro (12 August 1893) and of seaweed gathering (8 December 1900 and 21 April 1906).
Javier Barón