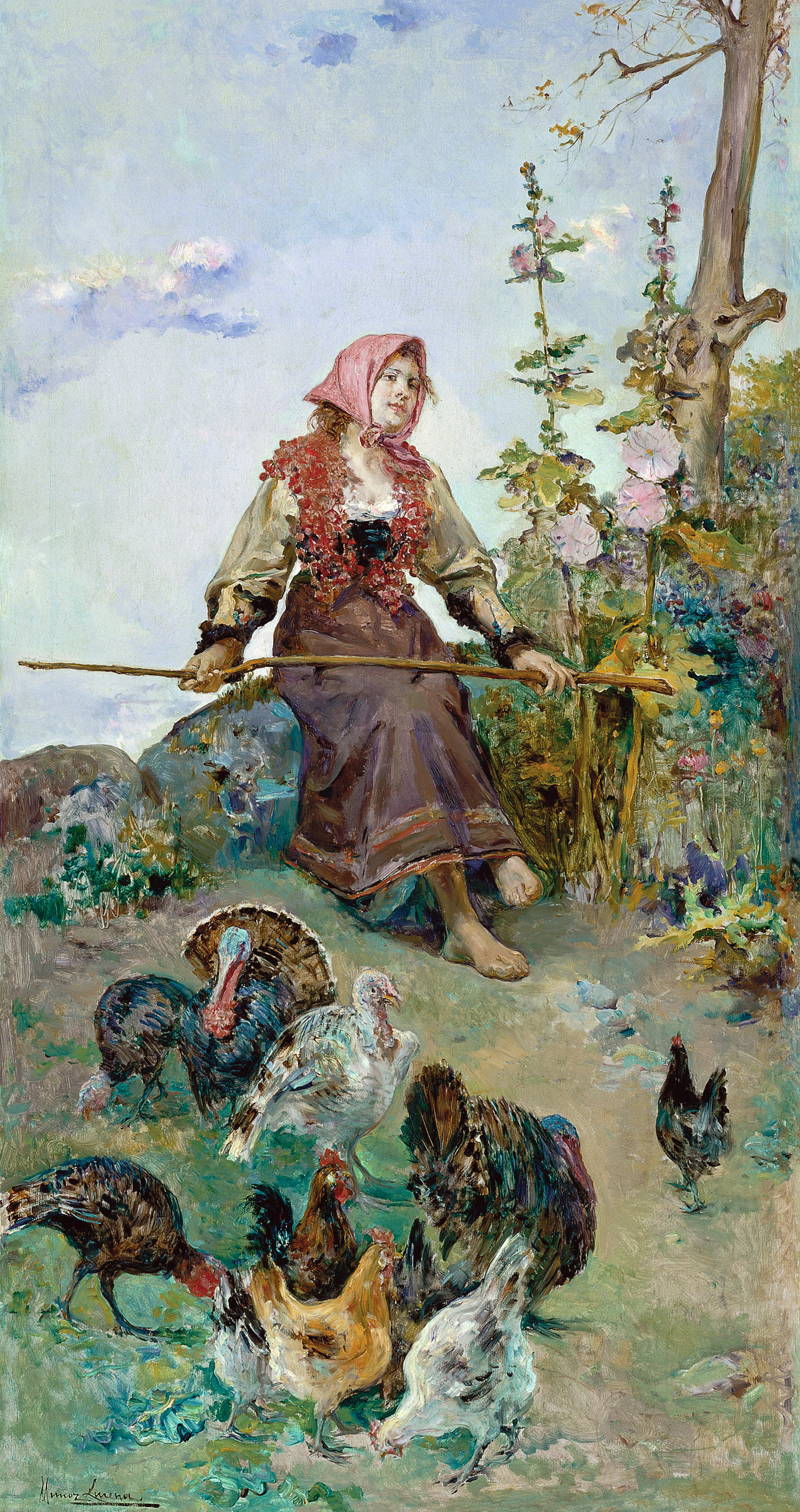 Tending the Turkeys
c. 1900
Oil on canvas

140 x 80 cm

CTB.1995.49

© Colección Carmen Thyssen-Bornemisza en préstamo gratuito al Museo Carmen Thyssen Málaga
This composition is in two parts: a lower area with fowl – including hens and turkeys – and a second, in the upper part of the picture, with a barefoot young woman in a long skirt with a headscarf. The stick in her hand is for controlling her charges, hence the title of the painting: Tending the Turkeys. However, this inconsequential theme served the artist as an excuse to produce a genre painting in which he could display his technical skills with colour, since a theme like this in the open air would enable him to reproduce the light and colour in the scene. Muñoz Lucena displayed great precision in the details of the flowers in the background and the fowl in the foreground by using very loose brushstrokes. The painter became interested in subjects involving nature and common folk under his first teacher, Rafael Romero Barros, but it was his visit to Rome, thanks to the Cordoba Council, that enabled him to detach himself completely from the Romantic tradition of Cordovan painting and enter modernity, so endowing Andalusian genre themes with a new look, fluency and radiance.
In all likelihood Tending the Turkeys was inspired by another picture by the same artist, entitled The Hens (Cordoba Museum of Fine Arts). Painted in Rome in 1886, Muñoz dedicated it to the Cordovan Council out of gratitude for its help in enabling him to study in the Italian capital. The picture features a barefoot young woman in Italian local dress and a child; she feeds a number of hens in the foreground with her.
In Tending the Turkeys, the artist painted the girl in a real Spanish shawl with tassels and placed a few turkeys among the hens. Although Muñoz Lucena is known to have painted several variations on this theme, this appears to be the one which won him a bronze medal at the Paris Exposition Universelle in 1900.
Pictures of this kind can be described as illustrative of the artist's predilection for spontaneous, colourful, lively genre themes; unpretentious themes reflecting his love for the observation of everyday life and simple things.
The prominence of the Andalusian female in his works, as well as the loose brushstrokes and radiant style, make certain comparisons possible with Muñoz's contemporary Gonzalo Bilbao (1860–1938), who produced very similar paintings, including Comprando pavos ("Buying Turkeys") and Pavos ("Turkeys").
Pilar De Miguel Egea