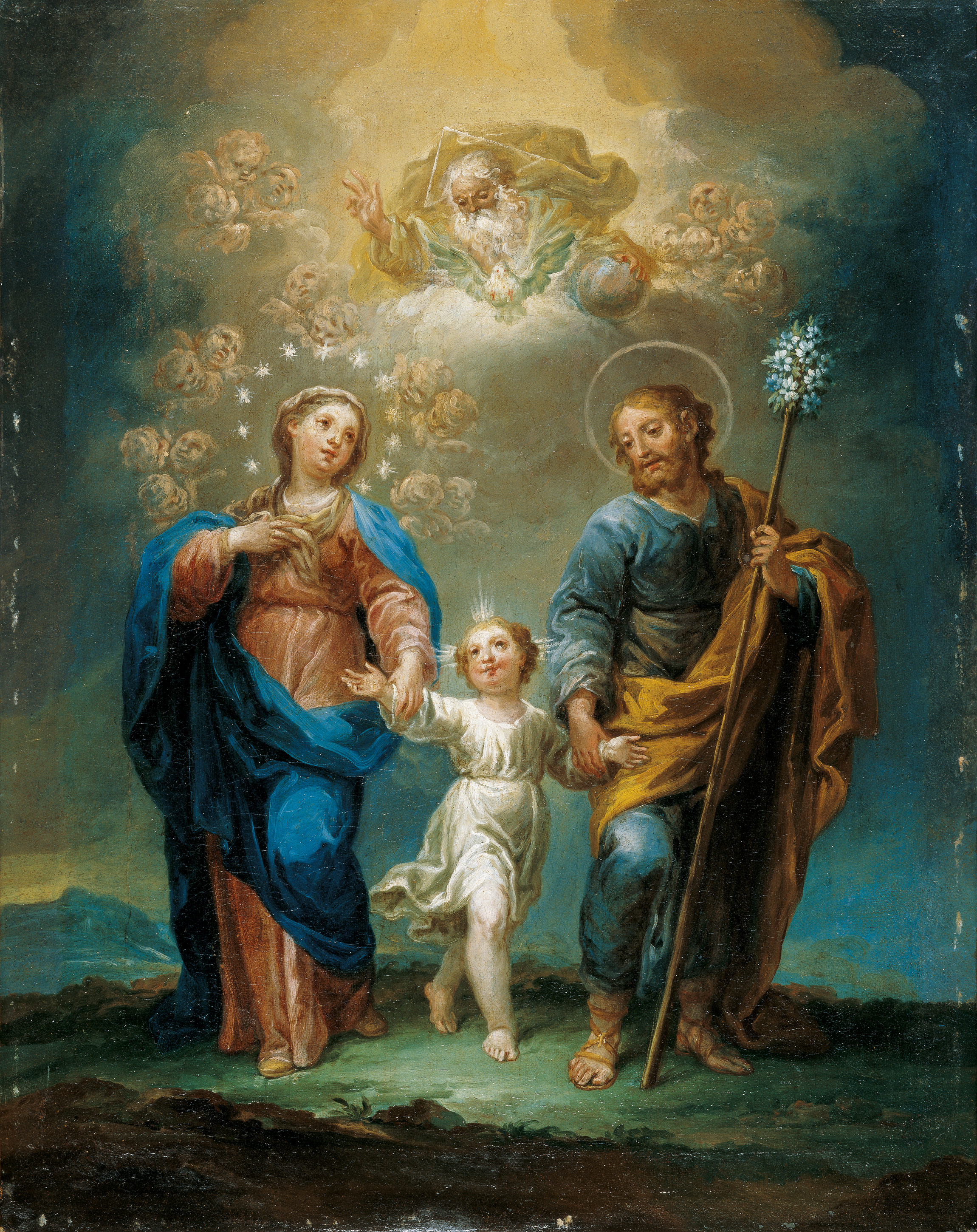 The Trinity of the Earth
s.f.
Oil on canvas

52 x 41 cm

CTB.2000.24

© Colección Carmen Thyssen-Bornemisza en préstamo gratuito al Museo Carmen Thyssen Málaga
The earthly Trinity is based iconographically on the model of the heavenly Trinity, of which it is a reflection. St Francis de Sales wrote in his Spiritual Conferences: "Mary, Joseph and the Child are a Trinity on earth that represents in some way the most Holy Trinity. Saint Joseph is the image of God the Father, the Child is evidently the Son and the Virgin takes the place of the Holy Spirit, of which she is the living temple." From the 17th century onwards the two "trinities", celestial and terrestrial, came to be represented fairly frequently in painting. Such is the case of the present composition, the lower part of which features the Virgin with her two halos of stars and cherubim; Saint Joseph bearing a flowering rod very similar to those depicted in late 17th-century painting, especially by Claudio Coello; and, between them, the smiling figure of the Child whose hands are linked with those of his parents as he walks. Above this group, on the central axis of the composition, is the dove of the Holy Spirit and beside it the image of God the Father amid light pouring through an opening in the heavens, blessing with his right hand and resting his left hand on a globe. Above his head is a triangular halo, which attests to and emphasises the triune nature of the representation. This is the usual model for the superimposition of the heavenly and earthy trinities, a theme more characteristic of the 17th than the 18th century as it is particularly linked to the Counter-Reformation ideas that were defended staunchly and rigorously in the output of the 1600s but considerably less strictly in 18th-century art. There are several similar examples in Madrid painting of the high Baroque period – in works by Carreño, Herrera Barnuevo and Claudio Coello – and also in that of Seville, where Murillo produced the most beautiful images. Perhaps the clearest influence visible in this work attributed to Ezquerra is that of a painting by Claudio Coello belonging to the collection of the Duchess of Villahermosa in Pedrola (Zaragoza); according to Sullivan (1989) and Pérez Sánchez (1992), this composition was in turn inspired by a print by Bolswert, after Rubens, in the Metropolitan Museum of Art in New York.
In the present work the original canvas has been enlarged, possibly to equal it in size to the rest of the set. Nevertheless, the identity of the models and technique and the general design of the picture, which is similar in all the works in this series, lead us to assume that it was executed by a single hand.
Trinidad De Antonio