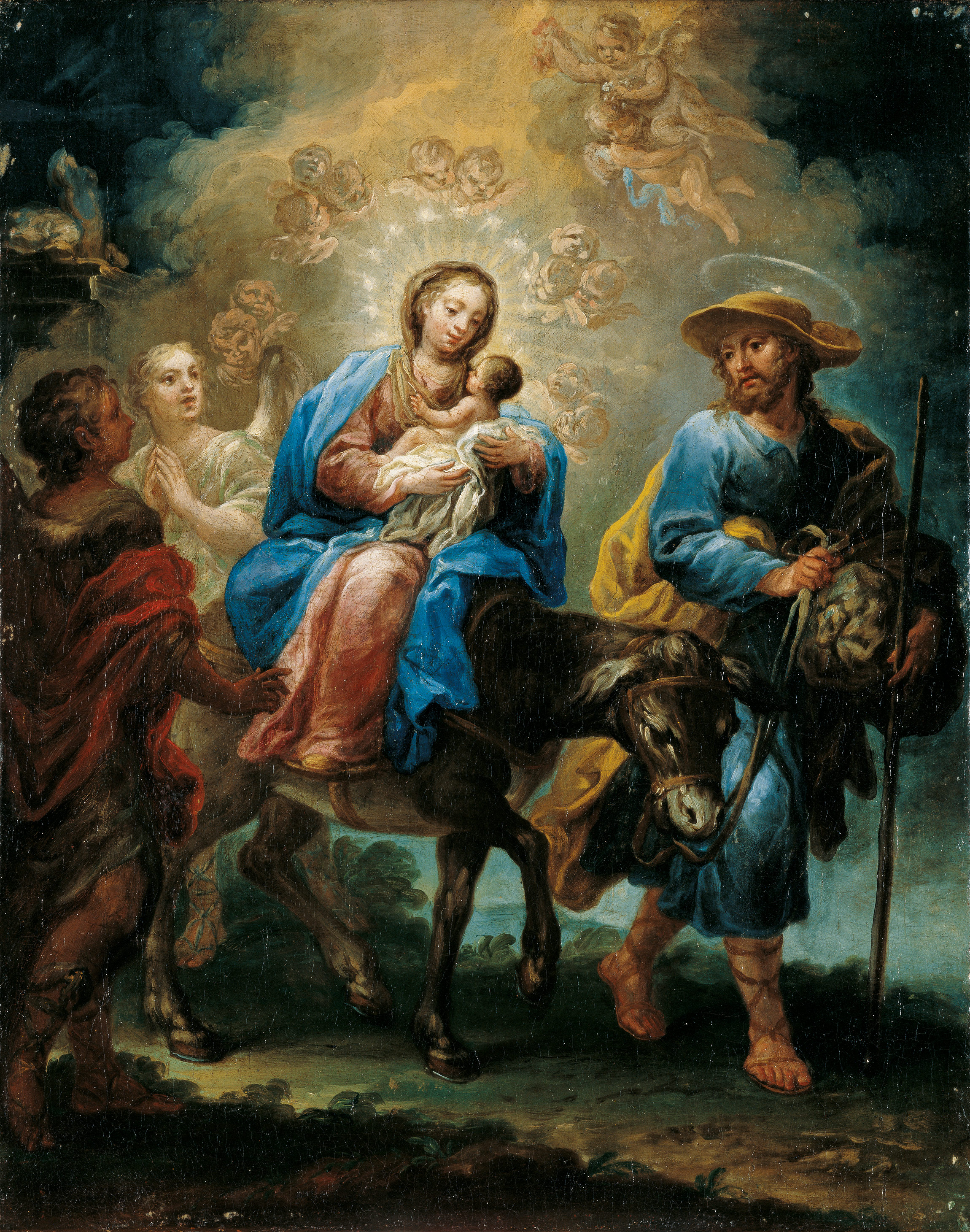 The Flight into Egypt
s.f.
Oil on canvas

52 x 41 cm

CTB.2000.23

© Colección Carmen Thyssen-Bornemisza en préstamo gratuito al Museo Carmen Thyssen Málaga
The flight into Egypt is only mentioned in the Gospel of Saint Matthew (2:13–15) and in barely a few lines: "Now when [the Magi] had departed, behold, an angel of the Lord appeared to Joseph in a dream and said, 'Rise, take the child and his mother, and flee to Egypt, and remain there till I tell you; for Herod is about to search for the child, to destroy him.' And he rose and took the child and his mother by night, and departed to Egypt, and remained there until the death of Herod." Matthew himself admits that this episode provides a justification for the prophesy of Hosea (11:1): "Out of Egypt have I called my son", words uttered by the Lord through his prophet. Their meaning was misinterpreted by the evangelist, as they did not refer to Jesus but to the people of Israel freed from the slavery of Egypt by the Lord. The apocryphal Gospels and the Golden Legend adored Saint Matthew's succinct account, enriching it with numerous inventions: the miracle of the ears of wheat, the bandits' attack, the miracle of the palm and the fall of the idols of Egypt.
The present painting displays all the traditional elements – the Holy Family, the donkey that carried the Virgin and Child and the angels who point out and protect the way – but it may also allude to the version featuring the fall of the idols, as in the upper left corner the artist appears to sketch a form on a pedestal which, given the landscape setting, can only be explained as a reference to this variant on the theme.
Mary holds and gazes lovingly at her Son, who is wrapped in swaddling clothes, while St Joseph, leading the donkey by the reins, watches them adoringly. The Virgin's head is surrounded by a starred halo – as in the rest of the paintings in the series – whose origins are linked to the cult of the Immaculate Conception, as explained earlier. She also has a second halo of heads of cherubim, which are repeated in other canvases belonging to the set and recall the models established by Carreño. The present work displays obvious links, in both composition and figures, with a painting on the same theme signed by Ezquerra and held in a private collection in Madrid. In both cases the artist is influenced by the Madrid school of the last decades of the 17th century, as may be seen from a comparison of these examples with a Flight into Egypt by José Moreno in the Minneapolis Institute of Arts.
Trinidad De Antonio