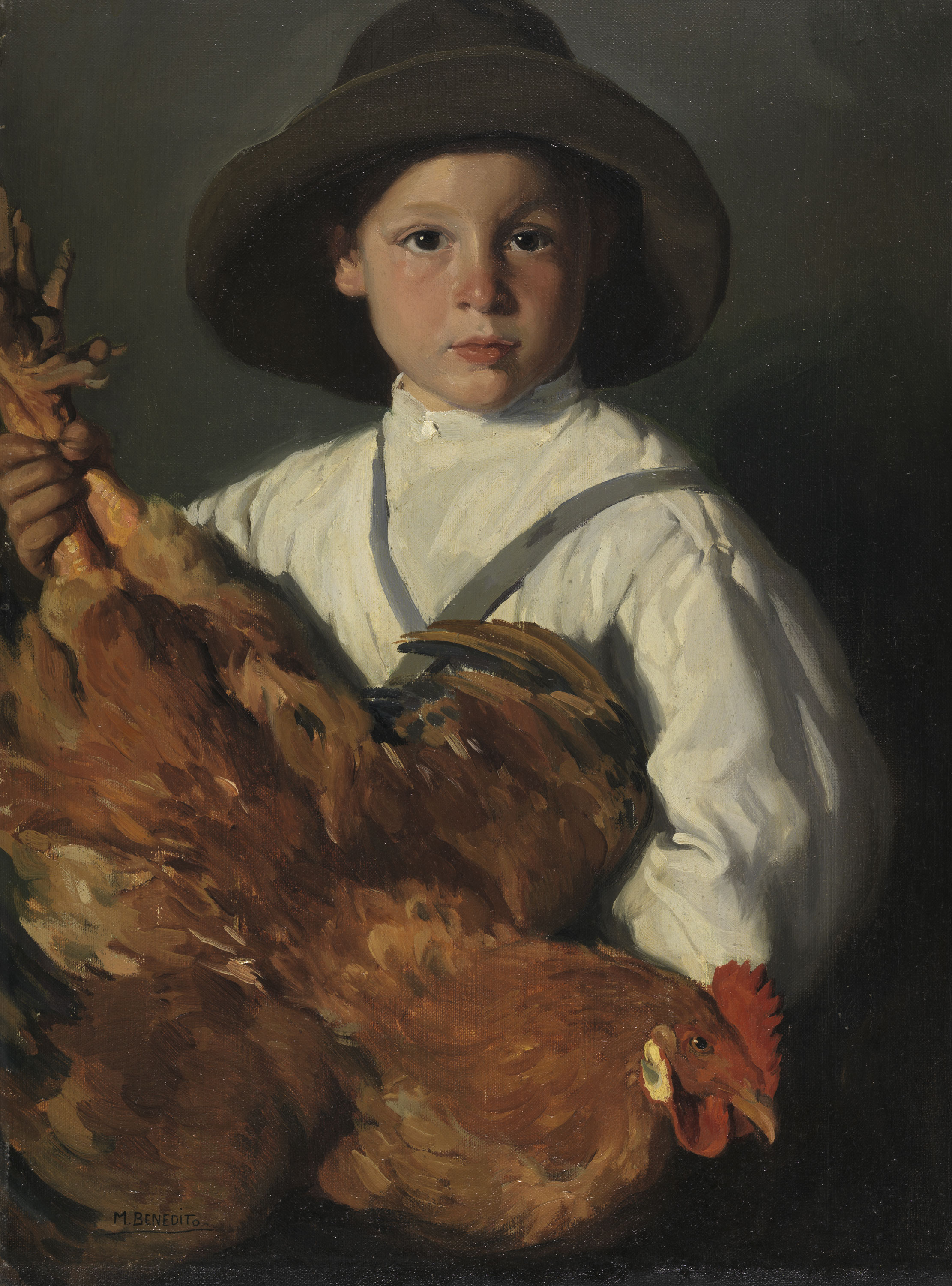 Boy with a Hen
1913
Oil on canvas

67 x 48 cm

CTB.2012.7

© Colección Carmen Thyssen-Bornemisza en préstamo gratuito al Museo Carmen Thyssen Málaga
Manuel Benedito Vives (1875–1963) was one of Joaquín Sorolla's most outstanding pupils. Despite the considerable influence of his master, he developed his own style within the tradition of early 20th-century Valencian painting. However, his trips to Italy, France, Belgium and Holland provided him with a vision different from that of other artists which enriched his painting and set it apart. Although his work is characterised by landscapes and still lifes, Benedito was also an excellent portraitist and he became one of the favourite painters of the Spanish aristocracy of his time, thus consolidating his prestige as an artist. He painted a number of distinguished personalities and was court painter to H. M. King Alfonso XIII.
While living in Castile, Benedito executed a more regionalist type of painting depicting humble scenes and personages and it is precisely the fact that the subject of Boy with a Hen is a more "popular" type of figure in contrast with the elegant high-society ladies Benedito normally portrayed that makes this painting so unique.
Manuel Benedito painted Boy with a Hen in 1913 on the Navaloscorchos estate during one of several stays in Cordoba. A keen hunter, he would spend long periods at the homes of aristocrat friends. That year, while at Navaloscorchos, which belonged to his friend Luis Gómez de la Lama, he produced a number of paintings, among these his famous Return from the Hunt (Fundación Banco Santander Collection). Boy with a Hen is a portrait of the son of "El Apreciao", the Navaloscorchos master of the hunt. Filling the whole of the foreground against a neutral background, the boy is dressed in a white shirt and a hat and holds the hen in his arms. Devoid of all artifice, the painting is a very natural and simple portrait of the boy. The yellow and red of the hen's plumage provide a single dash of colour, despite a somewhat austere palette, while the perfection of the painter's drawing technique and use of lighting is evident.
The form taken by the representation, composition and lighting of the scene bring to mind the influence of the great 17th-century Spanish masters for whom Manuel Benedito felt a great deal of admiration. Indeed, the greater part of his portraits and still lifes reflect the influence of Baroque painting, particularly that of Murillo and Velázquez. Together with other portraits, such as My Nieces of 1913 (Madrid, Fundación Manuel Benedito) and La Campesina ("The Peasant Girl") of 1944 (private collection), Boy with a Hen may well be one of the most noteworthy examples of this influence.
A recent addition to the Carmen Thyssen-Bornemisza Collection, Boy with a Hen previously belonged to the former collection of Conde de Adanero and subsequently to the Marqués de Castro Serna (Mazzuchelli-Urquijo family) collection, Madrid. Manuel Benedito is known to have made two copies of the 1913 canvas, one in 1918 and the other in 1926; both were acquired by private collectors.
María Luisa García Serrano