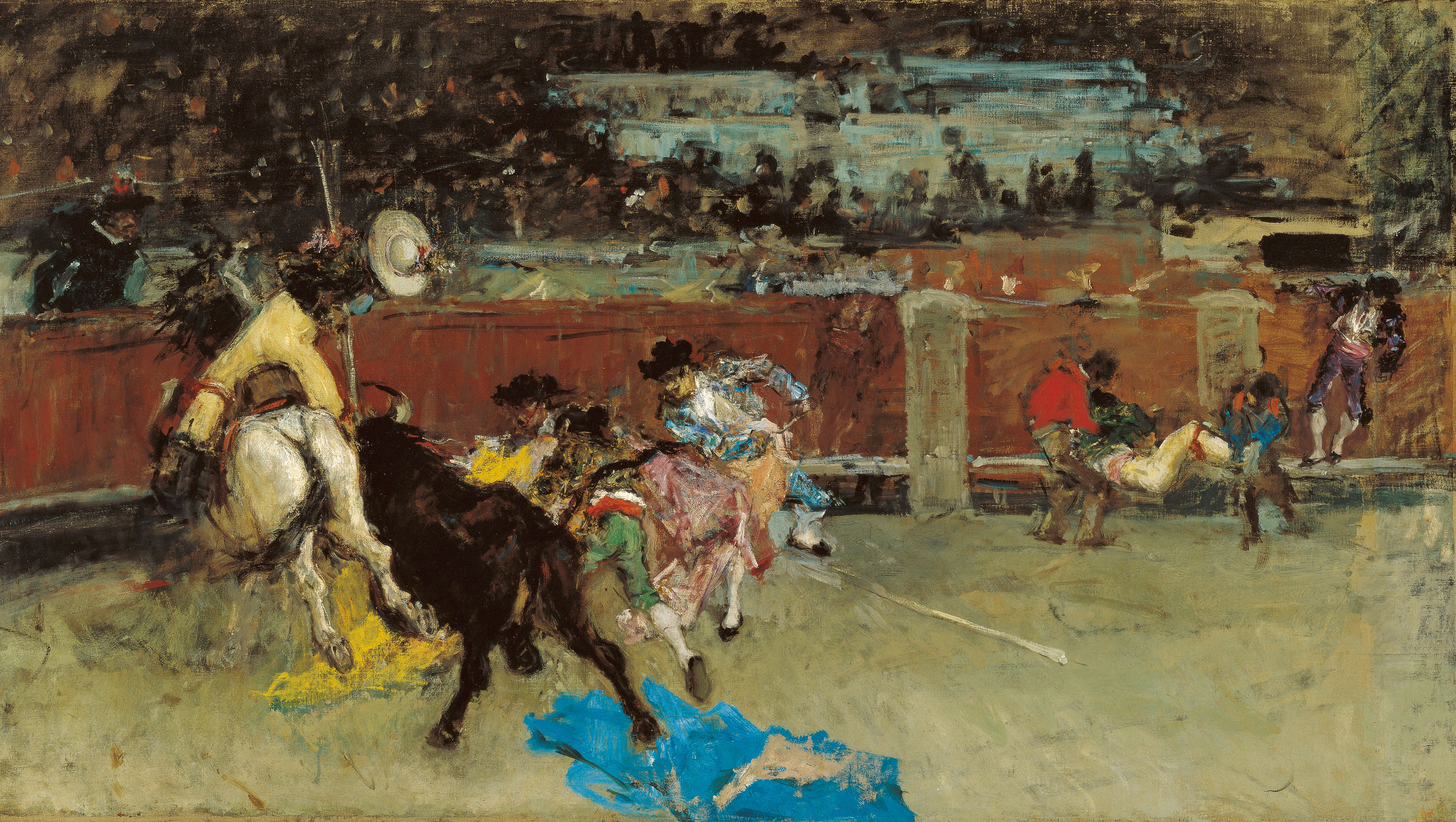 Bullfight. Wounded Picador
c. 1867
Oil on canvas on aluminium

80.5 x 140.7 cm

CTB.1996.26

© Colección Carmen Thyssen-Bornemisza en préstamo gratuito al Museo Carmen Thyssen Málaga

Your browser does not support the audio element.
A picador has been gored during a bullfight and is being carried out of the ring by two assistants. Meanwhile, the bull charges the horse of another picador who, with a suerte de varas, vigorously lances the bull while three toreros rush in to draw it away from the horse with their red capes.
Without a doubt this superb composition is one of the most important recent additions to Baroness Carmen Thyssen-Bornemisza's collection of 19th-century painting. It is also a significant acknowledgement of the work of Mariano Fortuny. In fact, this canvas was among those auctioned posthumously on 26 April 1875 at the Hôtel Drouot in Paris, where it fetched 4100 francs. Until it resurfaced only a few years ago on the American market, its whereabouts had hitherto been listed in bibliographies as unknown.
It is also a splendid testimonial to Fortuny's passion for the bullfight, an event he was sure to attend whenever he left his residence in Italy for one of his brief visits to Spain. Indeed, it is highly likely that this picture was painted between 1866 and 1868 during one of those trips to Madrid on the occasion of his engagement and marriage to Cecilia de Madrazo, daughter of the great portrait painter Federico de Madrazo, whose son Ricardo de Madrazo (also a painter) told in his memoirs how Fortuny would often go to bullfights with his (Ricardo's) brother Raimundo. Reinforced by their status as brothers-in-law, Fortuny and Raimundo's close friendship was to last until the former's death in 1874. Indeed, so close were they that the two even painted a number of pictures together. When Ricardo de Madrazo stated that Fortuny "went to the bullfights on Sundays with Raimundo, and painted a large picture in oils of a picador's suerte along with two other works on the same theme", he was undoubtedly referring to this painting. In all likelihood, the latter two are the watercolours – both entitled Bullfight. Wounded Picador – currently owned by the Musée du Louvre and the British Museum. Nevertheless, the composition in this canvas can be more closely associated with the watercolour entitled Bullfight. "Suerte de varas" which features the main group here, albeit with some variations.
Apart from his interest as a simple aficionado, Fortuny had long been captivated by the fiesta's artistic potential, mixture of colour and ritualistic drama, elegance, and the immeasurable brutality of the bullfighting world. These features, in their most superficial and picturesque manifestations, had proved irresistible to so many foreign artists of the day, most importantly Manet. But compared to these artists, and in spite of spending most of his career abroad, Fortuny was able to offer a deeper and much more authentic interpretation of the spirit of this event whose roots are steeped in Spanish painting's deepest tradition (as embodied mainly by Goya's work) and which with singular mastery the painter rendered in canvases, watercolours, and numerous drawings.
In this regard, it is particularly interesting to note that in all of his bullfighting pictures Fortuny eliminated the refined virtuosity that was the hallmark of his paintings destined for the art market and which brought him extraordinary fame in his own lifetime both in Europe and the Americas. Instead, he sought a more intimate, direct language of complete pictorial freedom, of which this canvas is a supreme example. Here Fortuny displays an expressive audacity, superior even to that achieved by the greatest avant-garde movement of the day – Impressionism – and reaches the very limits of abstract art. He thus reveals his true greatness as an artist who, had his life not been cut short, might so easily have soared to unimaginable heights.
Even if, at first glance, this canvas – too large to be regarded as a simple bozzetto for another more challenging work – gives the impression of being unfinished, its degree of incompleteness undoubtedly was what the artist actually intended once he had achieved his aims.
With the finest sensitivity for instantaneous movement, Fortuny manages to capture the sensation of brute force and the violence of the drama in the main groups of figures. With masterful foreshortening he freezes both bullfighters and beasts in action, tangling them between waving capes and horse hooves in a cloud of dust used here to cover other details finally excluded from the picture. The group of secondary figures on the far right carrying the injured man and near the torero at the barrier is also especially fine. From the very rapidly executed changes, it is evident that before moving this figure over to the left, Fortuny had originally situated it more centrally.
However, it is in the depiction of areas such as the arena where this picture displays its most unexpected modern expression. The broad strokes of very diluted colour which sometimes leave the canvas bare beneath it, the tiers of seats produced by means of insistent, vigorous, even nervous brushstrokes reminiscent of abstract art, the very personal use of painting in daubs, marked by the heavy use of black to underline the drama of the event and instantly bringing to mind the late work of Goya, all produce a sudden contrast with the pure, furiously bright colours of the costumes and capes which, devoid of decorative aspiration, endow the scene with an even harsher tone.
Although the frantic, extraordinarily vigorous technique might suggest otherwise, this painting is the result of much patient work by the artist in the studio using numerous sketches in pencil made at great speed in the seconds following his witnessing of the picador's injury. Some of these quick sketches drawn on paper were later used in other oils and watercolours and most now belong to the Spanish National Library. Some of them may have served specifically for this work, in particular for the injured picador group, the figure at the barrier and the mounted picador, who also appears in a drawing in the Museo del Prado.
This canvas was recently glued onto an aluminium sheet and as a result has been slightly stretched. Marks from the original mounting are still visible all around the wooden stretcher.
José Luis Díez