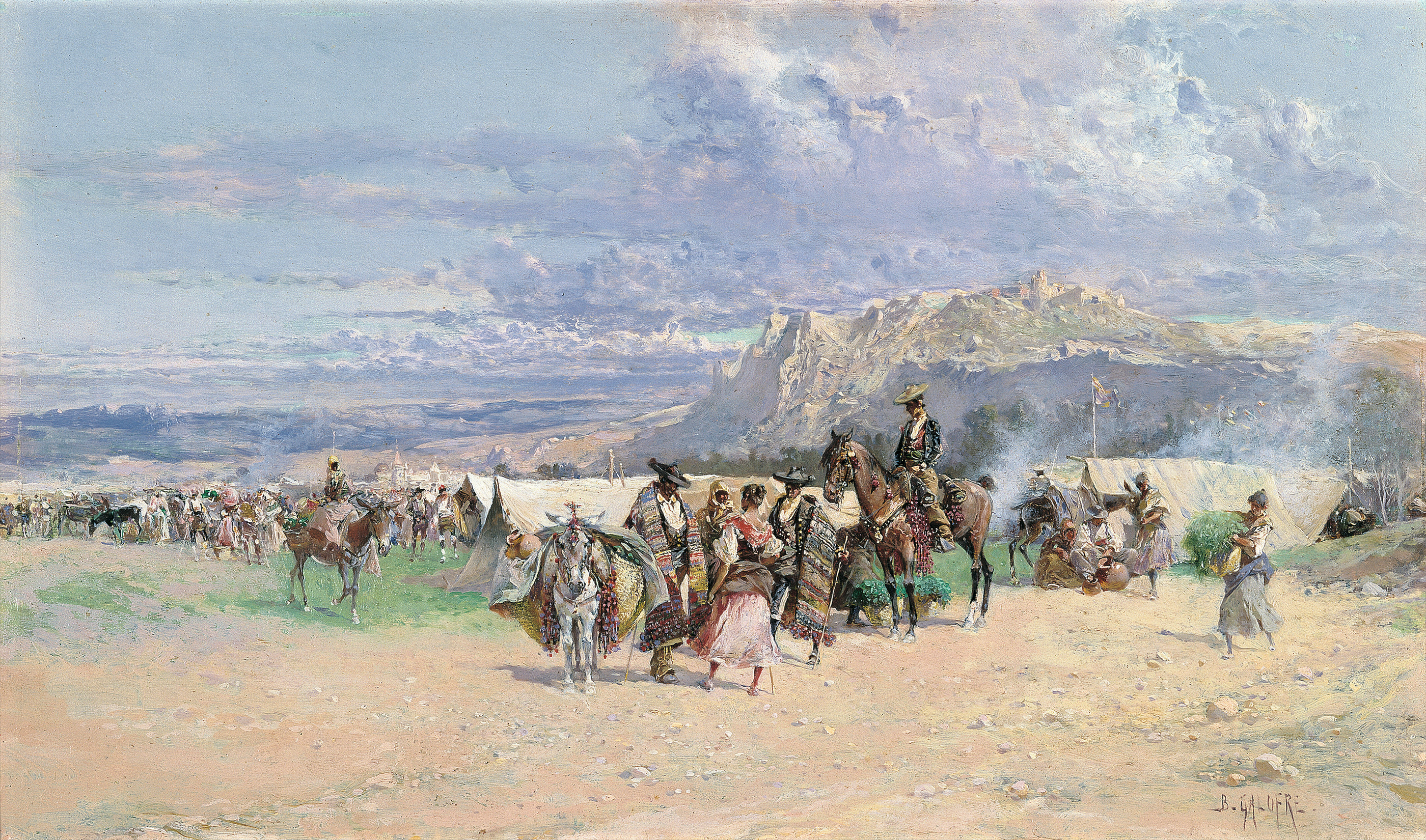 Camp at the Foot of the Mountain
c. 1895
Oil on panel

22 x 37 cm

CTB.2000.26

© Colección Carmen Thyssen-Bornemisza en préstamo gratuito al Museo Carmen Thyssen Málaga
A camp of canvas tents has been pitched in a large open area in the foothills on the outskirts of a town distinguishable in the background. Andalusian horsemen and travellers cross the area, while in the distance traders can be seen in clothes typical of different regions, suggesting that a fair is due to be held near the town.
In his mature years, Galofre dedicated a large part of his production to the portrayal of small genre scenes mostly inspired by the Moroccan or Andalusian worlds and this painting is a fine example. Intended for an undemanding market and a quick sale guaranteed by their low price and obvious appeal to a middle-class, fin-de-siècle clientele, these pictures were mostly panoramic views of wide open landscapes, presented in a sharply horizontal format. They are usually divided in two by the horizon with figures in the central area often rendered with very bright, small strokes and in great detail. The vibrant touches of carefully and painstakingly applied light and colour reveal the deep impression made upon this painter's style by the art of his fellow countryman Fortuny.
Details such as the group in the foreground, in which a man selling crockery – with his donkey's saddlebags full of pitchers – and other travellers chat with a young woman, or the tiny figures in the distance, or the technical subtlety with which the outline of the town or the distant blue mountains and the clouds are painted, all reveal Galofre's mastery. In his mature years, he practically abandoned the more complex type of composition, preferring to flood the market with small scenes like this one, full of "typical" flavour and picturesqueness. These are greatly appreciated as collector's items even today.
Another characteristic of this artist is the range of pastel colours in his palette: his use of very soft hues for the features of the landscape allows the figures to stand out more sharply. With this method, these attractive compositions often look like watercolours, as is the case here.
José Luis Díez