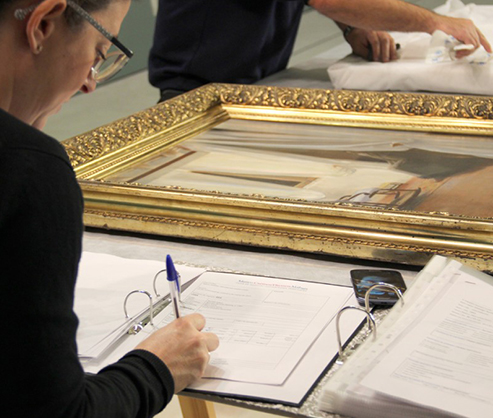 Mission
We are a museum dedicated to conservation, research and the dissemination of the Carmen Thyssen Collection in order to emphasize the value of Spanish painting, especially that of the nineteenth and early twentieth centuries, fully referenced in its historical and artistic context, for the understanding of all audiences, which forms part of Malaga's strategy as a cultural city.
The Museo Carmen Thyssen Málaga has the objective of sustainable cultural tourism is to ensure good conservation practices along with authentic interpretation that supports the local economy
Vision
We aim to become an international benchmark for our contribution to nineteenth century art in Spain, through the conservation of our Permanent Collection and temporary exhibitions that facilitate their interpretation. In addition, for our emphasis on the value of the Roman archaeological site, for our dynamic cross-cutting programme of cultural and educational activities dedicated especially to younger audiences, and for an approach that is always open to collaboration with other cultural and social institutions.
Furthermore, for our model of museum management focused on the commitment to better service to our different stakeholders, as well as the incorporation of new technologies, and a comprehensive vision of the space, from a design perspective, incorporating complementary uses and comfort.
Also, for offering a tourist facility that furthers the international projection of the city of Malaga, which is fully integrated into the society that surrounds it as an open meeting place, including for social and business events, and that extends its activities beyond the walls of the museum, to the surrounding streets, with the intention of creating a cultural and commercial ecosystem.
Values
Enthusiasm
We are an organization made up of capable and motivated people, and with a heightened sense of belonging to our organization, sensitive to different individual and collective attitudes, that conceives of teamwork, participatory culture, self-motivation and personal initiative as the fundamental pillars of our operation.
Excellence
We are an organization that is efficiently managed by people committed to quality and sustainability, working on the continuous improvement of the organisation's activity, with professionalism, and oriented towards visitor satisfaction as our top priority, always bearing in mind their diversity.
Participation
We are an organization committed to society that encourages critical thinking, debate and reflection as tools for social, cultural and urban transformation.
We collaborate with other cultural, social and commercial institutions, being an element of dynamism and encounter, and we combine efforts to encourage maximum diversity and the most approachable artistic and cultural activity.
Respect
We are an organization that is conscious of the value of artistic and cultural heritage as part of society in general. Integral to developing the institutional mission, we work with transparency when managing information, promoting participatory work based on honesty, trust, integrity and respect for people, promoting values ​​of freedom and respect for the individual.
Our commitment to health and safety and the environment, as well as our aspiration to be an efficient and sustainable organization, means that social responsibility is an obligation for us.
Artistic sensitivity and creativity
The Museum has a strong public vocation, aiming to entertain, educate and provide innovative experiences to enrich its visitors. To do this, we work from artistic sensibility and everything we do radiates that respect for the museum and the works of art that we curate.