Museum in action
White Night
14 de mayo de 2016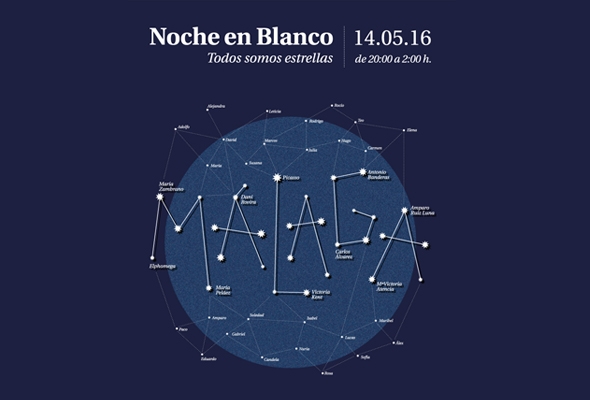 Date and time:

14 May 2016 (8pm to 1.30am)

Price:

Free entry

Participants:

Público general
Free entry day
Free entry from 8pm to 1.30am to the Permanent Collection, the temporary exhibition Reflections of Pop and the exhibition Pop Tops.
Walking among stars
Who are the Museum's real stars? For White Nights 2016 we will be focusing on the true stars of the Museum - the artists whose works make up the collection – by presenting them in a public space.
With this aim in mind, the streets that meet at the main entrance to the Museo Carmen Thyssen Málaga will be transformed into a unique "walkway of fame" dotted with stars with the names of the painters and sculptors whose works constitute the Carmen Thyssen Málaga Collection.
Interactive video project
Visitors to the Museum can participate in a video projection that will transform the main courtyard into a sky in which hundreds of stars conceal some of the works in the Collection. Can you spot some of them?
Wishing on a star
The temporary exhibition Reflections of Pop reveals how international Pop art influenced a number of Spanish artists, whose works present the comfort and well-being of the "American dream" with an ironic, critical gaze.
Playing with the critique which these artists formulated of a new lifestyle that associated consumerism with happiness, we will be creating a collective panel on which visitors can leave their wishes for changes in today's world, written on a star. The result will be a sky filled with stars that reflect this desire for a better society.
Volver