Courbet, Van Gogh, Monet, Léger
From naturalist Landscape
to the Avant-gardes in the Carmen Thyssen Collection
4 October 2013 - 20 April 2014
Claude Monet
Low Tide at Varengeville, 1882
© Carmen Thyssen-Bornemisza Collection on deposit
at Museo Thyssen-Bornemisza, Madrid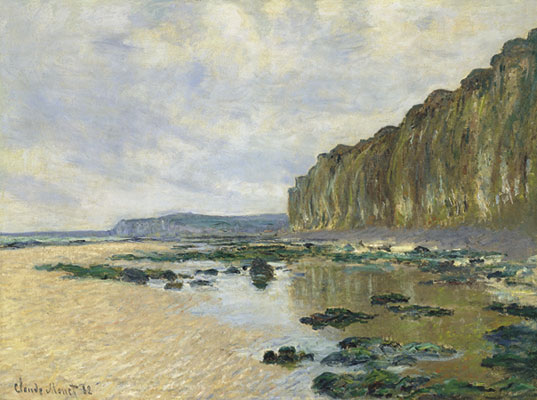 Claude Monet
Low Tide at Varengeville, 1882
© Carmen Thyssen-Bornemisza Collection on deposit
at Museo Thyssen-Bornemisza, Madrid
The exhibition Courbet, Van Gogh, Monet, Léger. From naturalist Landscape to the Avant-gardes in the Carmen Thyssen-Bornemisza Collection, organised in collaboration with Obra Social "la Caixa", focuses on the role of landscape painting in the renewal of modern art through the quest undertaken by artists for greater freedom of execution and direct contact with nature. At the same time, it reveals the interesting connections that arose between the principal Spanish painters and the most important artistic movements that simultaneously emerged in Europe.
Through a selection of more than forty works from the Carmen Thyssen-Bornemisza Collection, the exhibition offers a survey of landscape painting from the mid-19th century to 1950, relating the most important Spanish landscape painters such as Carlos de Haes, Eliseu Meifrèn and Santiago Rusiñol to the principal trends in international, particularly French art with the aim of seeking out affinities and influences.
In comparison to genre painters, whose work was governed by strict rules, landscape painters achieved a greater degree of freedom by establishing a direct dialogue with nature while also trying out new techniques that incorporated scientific discoveries of the day. Thus for late 19th-century artists, painting could not be confined to the imitation of reality: beauty was the result of an internal order and their conception of a painting as a flat plane covered with colours anticipated the contribution of the 20th-century Avant-gardes. Around 1930 and following a period when landscape was to some extent eclipsed, the Surrealists gave it a new meaning as the representation of the subconscious.
Overall, the exhibition allows visitors to appreciate how landscape painting evolved over almost a century, from naturalism to the markedly introspective character of Avant-garde landscapes, while also taking into account the transition from post-Romanticism to Symbolism, the interest in light characteristic of Impressionism and the return to classicism.