Anglada-Camarasa.
Arabesque and Seduction
6 November 2012 - 31 March 2013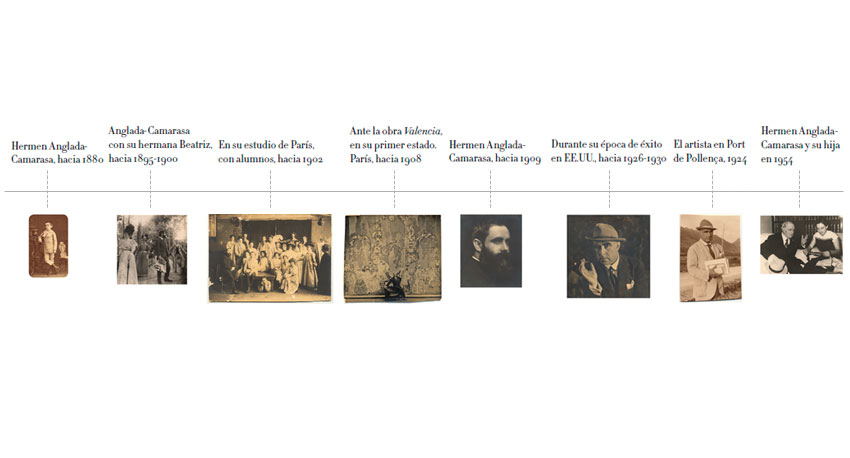 Hermen Anglada-Camarasa.
Biographical information
1871
Hermengil Anglada-Camarasa was born on 11 September 1871 at number 6, calle Montserrat in Barcelona.
1885
He began his art training, entering the Escola de Belles Artes, better known as La Llotja. Among his teachers was Modest Urgell, his true master.
1888
He participates in the Universal Exhibition Barcelona.
1894-97
In March 1894 Anglada-Camarasa held his first solo exhibition at the Sala Parés, showing several landscapes. He visited Paris where he carefully studied works by the great painters and completed his training at the Académie Julien. This marked the start of his first Paris period (1894-1904).

Financial problems obliged him to leave Paris in late 1895 but he returned there two years later for a lengthy period.
1898
He exhibited for the first time at the Salon of the Société Nationale des Beaux-Arts in Paris, popularly known as the Salon du Champ du Mars.

He started to attend Josep Oller's cabarets, which would be the principal subject of his work for a considerable period of time.
1900
He presented work on Parisian subjects at the Sala Parés in his second solo exhibition.

Picasso depicted him in a number of drawings executed at Els Quatre Gats.
In October he and Junyent co-wrote the article

La honradesa en l'art pictòric

[Honesty in Painting], which was published in the Catalan magazine

Joventut. It upheld the supremacy of art over nature

.
1901
He started to sell his works. Buyers included Santiago Rusiñol and Joan Llimona.
1902
Anglada-Camarasa's fame increased and he started to take part in prestigious European art events.

He exhibited at the Salon de Paris, on that occasion as an invited artist.
1903
He was made a member of the Salon of the Société National de Paris, indicating the degree of recognition he had achieved by this date.
1904
He spent the summer in Valencia and as a result moved away from scenes of Parisian night-life. He now began to produce larger and much more decorative paintings, making the start of his so-called "second Paris period" which would last until the outbreak of World War I in 1914.
1905
He participated in the 6th Venice Biennial, this time with the status of "master", thus fully establishing his international reputation.

By this date he had married Isabelle Beaubois.
1906
He took part in the revolutionary Salon d'automne.
1909
He made his first trip to Majorca, which would later become his permanent home.
He returned to Paris and started to give classes to the Argentinean painters with whom he would subsequently found an important school of painting.
1910
He took part in the International Art Exhibition to celebrate the Buenos Aires Centenary, marking the start of significant activity on his part in Argentina.
1911
He was awarded joint First Prize with nine other artists at the Esposizione Internazionale delle Belle Arti in Rome. He turned down his part of the prize in favour of Antonio Mancini.
1914
He moved to Majorca and was there when World War I broke out. That year he ceased to paint Parisian subjects and embarked on his "Majorcan phase", which lasted until 1936. He was visited in Port de Pollença by his Argentinean students who, together with local painters, established the so-called

Escola pollensina

.
1915
Anglada-Camarasa was made an honorary member of the Círculo Artístico in Barcelona.

He co-signed the

Manifesto of Spanish Intellectuals

in support of the Allies. Co-signatories included numerous other Spanish intellectuals, scholars and artists.
1916
A solo show of his work was organised in the Palacio de Bellas Artes del Retiro, Madrid, by the Círculo de Bellas Artes. He was made an honorary member of the Círculo.
1917
He was made an honorary member of The Hispanic Society of America in New York.

He was involved in the promotion of the Exhibition of French Art in Barcelona, which showed works by the most avant-garde French artists of the day.
1919
He took part in the Exhibition of Modern Painting and Sculpture in Bilbao, showing his work in a separate room.
1924
He began to participate in important art events in the USA.

The Society of Friends of Art in Buenos Aires organised the artist's second solo exhibition in the capital.
1925
He travelled to the USA for the first time, invited to be a jury member for the 24th Annual International Exhibition of Paintings in Pittsburgh.
1926
He was awarded the gold medal for 150th Centenary International Exhibition in Philadelphia for

Peasants from Gandía

.
1929
He took part in the International Fine Arts Exhibition in Barcelona where he was given a Room of Honour.

The first monograph on the artist appeared in London, written by Stephen Hutchinson Harris and published by the Leicester Galleries.
1931
Anglada-Camarasa acquired a plot of land by the sea in order to build his permanent home in Port de Pollença. The town's sea-front was officially named the "Paseo de Hermenegildo Anglada-Camarasa". He married his great-niece Beatriz Huelin Rocamora.
1932-1935
During these years Anglada-Camarasa took part in few events and exhibitions. He declared his intention to abandon art and grow flowers on his estate, El Pinaret, in Port de Pollença.

On 4 November 1932 the artist was made a corresponding member of the Real Academia de Bellas Artes de Sant Jordi in Barcelona.

His daughter Beatriz was born in August 1933.
1936
He presented a group of entirely new works in an exhibition held at La Pinacoteca gallery in Barcelona.

With the outbreak of the Spanish Civil War, Majorca fell under the control of the Nationalist forces under Franco. Anglada-Camarasa, his wife and daughter were obliged to remain in Barcelona, thus bringing to an end more than twenty years on the island.

He signed the

Manifest dels Intel.lectuals

Catalans against the Nationalist attacks on Republican civilians.
1937
He set up his studio in the monastery of Montserrat where he took refuge until the end of the Civil War. During this short period he primarily painted mountain landscapes.
1939
In early 1939, before the entry of Nationalist forces into Catalonia, Anglada-Camarasa and his family went into exile in Paris, which marked the start of a difficult period of poverty and lack of materials.
1945
Following the liberation of France he began to organise his return to Spain, where he would eventually arrive three years later.
1947
He took part in the Exhibition of Contemporary Spanish Art organised by the Museo Nacional de Bellas Artes in Buenos Aires.

By the end of that year he was once more involved in the Catalan art world.
1948
This was Anglada-Camarasa's last year in France. His years of exile came to an end and he returned with his family to Majorca.
1950
In 1950 the Cercle de Belles Arts in Palma de Mallorca organised a retrospective exhibition as a tribute to the painter. It included the underwater compositions that Anglada-Camarasa had executed years earlier but had never exhibited.
1951
La Pinacoteca gallery in Barcelona organised what would be his last solo exhibition at that venue. The critics were by this date unanimous: Anglada-Camarasa was no longer a subject for judgment as he had achieved classic status.
1954
Anglada-Camarasa finally took part in the National Fine Arts Exhibition in Madrid, setting aside the critical attitude to the event that he had maintained throughout his life. He was made an honorary member of the Real Academia de Bellas Artes de San Fernando, Madrid.

He showed work in the Exposició Quatre Gats, a commemorative exhibition at the Sala Parés in Barcelona.
1955
The Cercle Artístic de Barcelona held an exhibition in honour of the artist, with fifty-one works. On the occasion of this event he was awarded the Grand Cross of Alfonso X el Sabio. The following day he was made honorary president of the Real Cercle Artístic de Barcelona.

The last major exhibition of Anglada-Camarasa's work held during his lifetime was shown at the Galería Velázquez in Buenos Aires.
1956
He was awarded the Juan March Fine Arts Prize, signifying official recognition of his career.
1959
He died in the early hours of 7 July at his home in Port de Pollença, aged eighty-seven.