Guest Work
María Blanchard
4 - 22 March 2015

Closing date postponed to 5 April
María Blanchard
Composition avec tache rouge, 1916
Collection BBVA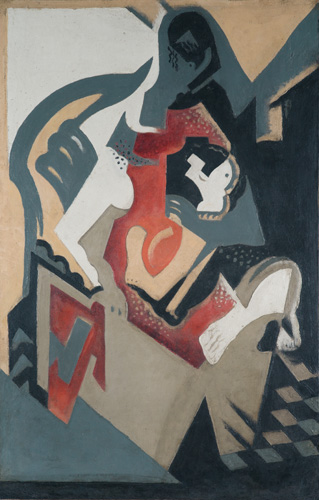 María Blanchard
Composition avec tache rouge, 1916
Collection BBVA
A renowned painter in an art scene barely open to women artists, María Blanchard (Santander, 1881 – Paris, 1932) was one of the foremost representatives of the early 20th-century avant-garde and one of the most important figures in Cubism.
Between 1913 and 1919 her works were affiliated with this movement, under the influence of her friends Diego Rivera and Juan Gris – with whom she shared a studio – and other great masters of Cubism such as Albert Gleizes, Jacques Lipchitz and André Lhote, to whom she was also linked by friendship. However, her style was highly personal, based on synthetic compositions and a predominance of colour.
The work from the BBVA Collection, displayed at the invitation of the Museo Carmen Thyssen to mark International Women's Day, belongs to this creative period of outstanding importance in her career. It depicts a woman seated on a rocking chair with a child in her arms, possibly her artist friend Angelina Beloffand the son she had in 1916 by Diego Rivera – who produced a very similar painting that year. María Blanchard lived with Angelina in Paris, where she remained from 1915 until her death.
Date: From 4 ti 22 March 2015 (Closing date postponed to 5 April)
Place: ArteSonado Room
Access: Access is included in the entry to the Permanent Collection
2€ if the access is exclusive to the ArteSonado Room