El Greco—
Rusiñol
8 October - 22 November 2014
El Greco (and workshop)
Saint Peter in Tears, ca. 1595-1614
© Museo del Cau Ferrat, Sitges
Colección Santiago Rusiñol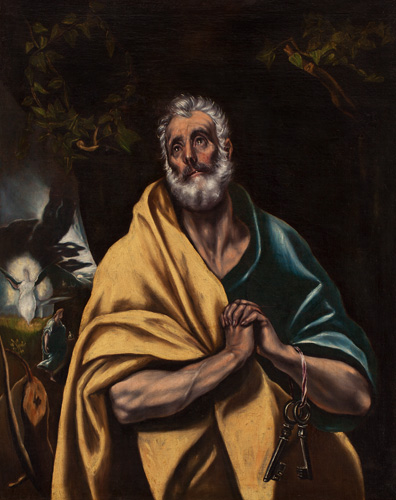 El Greco (and workshop)
Saint Peter in Tears, ca. 1595-1614
© Museo del Cau Ferrat, Sitges
Colección Santiago Rusiñol
El Greco was relatively well known, though not sufficiently appreciated, during the nineteenth century. with the perspective of the passage of time and the new value the modern movements attached to concepts such as different and unique, appreciation for his work began to grow and his use of intense colours and the stylised proportions that enhanced the expressive qualities of his figures became a source of inspiration for other artists.
In Spain, one of the key events in the process of his revival was devised by Santiago Rusiñol. at the end of 1893, Ignacio Zuloaga, Pablo Uranga, Rusiñol and the journalist Josep M. Jordá discovered two El Grecos in Paris thanks to Jordá. The paintings belonged to the industrialist Pau Bosch, from whom Rusiñol bought them after making the necessary arrangements. They were a Penitent Magdalen with the Cross with large, watery eyes and stylised proportions, and a Saint Peter in Tears with a spiritual expression and absent heavenward gaze. The saint, with vigorous arms and hands clasped in devout prayer, bears the symbol of his attribute, the keys to the kingdom of heaven.
Rusiñol organised an absolutely special celebration to mark the arrival of the El Greco paintings in Sitges on 4 november 1894. The staging was unforgettable and was talked of for many years afterwards. The paintings were paraded in a procession as part of the programme of the third Fiesta Modernista. with great drawing power, the painter managed to get a very important group of intellectuals and creators to take part, among them Ramón casas, Enric Clarasó, Eliseu Meifrèn, Ramón Pichot, Narcís Oller, Joan Maragall, Pompeu Gener, Ramon Casellas, Luis Gonzaga Jordá and the architect Puig i cadafalch.
This small tribute the Museo carmen thyssen is paying to El Greco is linked to Rusiñol and is inspired by the event described above. It features one of the paintings that were brought back, Saint Peter in Tears, along with a copy by Zuloaga, a faithful devotee of the cretan. another work by Rusiñol copies what was El Greco's best known portrait, The Nobleman with his Hand on his Chest and, lastly, Pichot depicts Rusiñol identifying with this portrait and showing his deep admiration for El Greco.