Julio Romero de Torres.
Between Myth and Tradition
27 April - 8 September 2013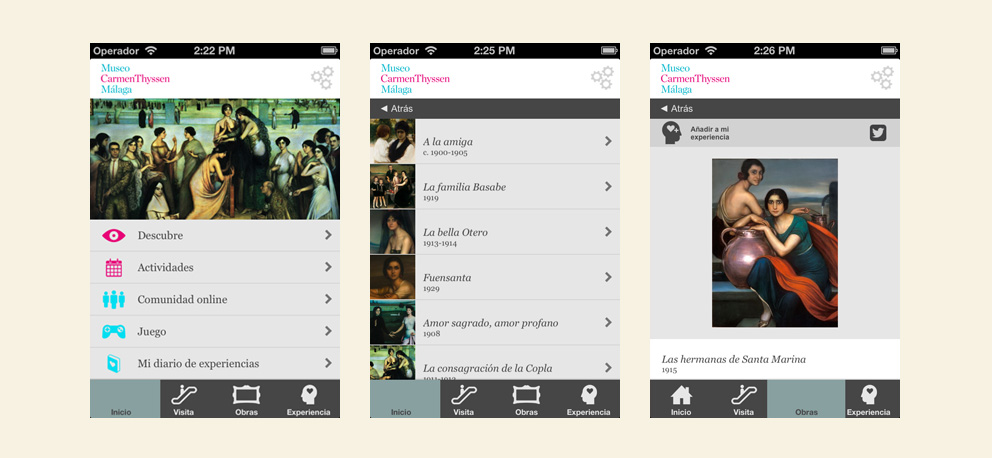 The Museo Carmen Thyssen Málaga is offering the option of an app for iPhones which features the works in the exhibition Julio Romero de Torres. Between Myth and Tradition. The App has been designed by Nebro Mellado & Consultures within a collaborative agreement reached with the Museum.
The App aims to offer an alternative experience to all those wishing to prepare a visit or learn more about the life and work of the Cordoban artist. It contains introductory texts accompanied by images of all the works in the exhibition, a selection of masterpieces, Romero de Torres's biography, a virtual visit and an explanatory video featuring the exhibition's curator Lourdes Moreno. In addition, it has a game with questions that involve clues on the artist.
Each time users access the App, their experience is recorded so that they can save their favourite works or prepare the route round the exhibition. Users can also share their favourite works with their followers on Twitter.
For those intending to visit the Museum, the App includes all the essential practical information plus details on related activities including guided tours, the music cycle The Flamenco Dream of Julio Romero de Torres and the monographic course Julio Romero de Torres. Revising the Myth.