Courbet, Van Gogh, Monet, Léger.
From naturalist Landscape to the
Avant-gardes in the Carmen
Thyssen-Bornemisza Collection
4 October 2013 - 20 April 2014
Caspar David Friedrich
Fishing Boat by the Baltic Sea
ca. 1830-1835
Oil on canvas, 22 x 31.2 cm
© Carmen Thyssen-Bornemisza Collection on deposit at Museo Thyssen-Bornemisza, Madrid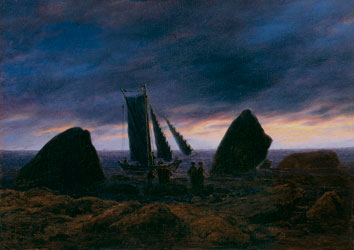 Eliseu Meifrèn i Roig
n.d.
Oil on canvas, 60.5 x 80.5 cm
© armen Thyssen-Bornemisza Collection on deposit at Museo Thyssen-Bornemisza, Madrid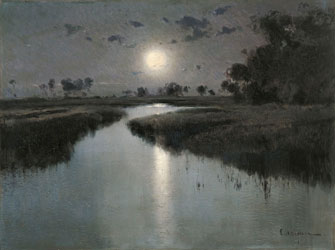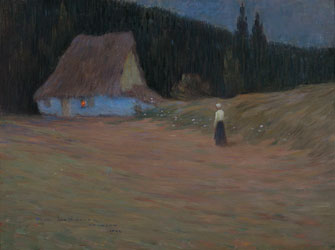 From Post-Romanticism to Symbolism
For the Romantic and post-Romantic artists landscape painting was the means to express their ideas through allegorical scenes that emphasised nostalgia via the recreation of nature, as in the work of Caspar David Friedrich. This concept, which was remote from that of naturalist landscape, offered the Symbolist painters the key to depicting settings imbued with melancholy. As a result, artists such as Modest Urgell and Eliseu Meifrèn concentrated on the depiction of scenes set at dusk, in which the natural world devoid of any human presence reinforces the concept of stillness so closely associated with Symbolism while also allowing the artists to study the changing effects of light.