Darío de Regoyos
The Impressionist Adventure
14 June - 13 October 2014
Darío de Regoyos
Almond Trees in Blossom, 1905
© Colección Carmen Thyssen-Bornemisza en préstamo gratuito
al Museo Carmen Thyssen Málaga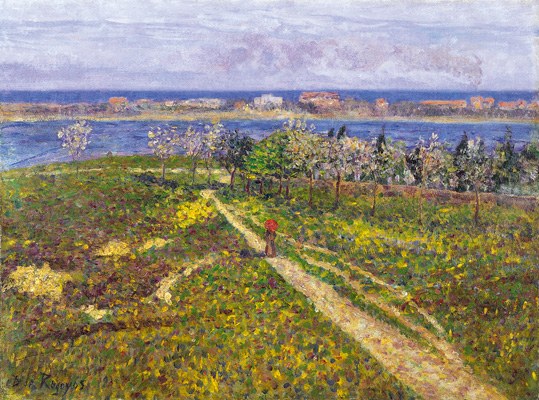 Darío de Regoyos
Almond Trees in Blossom, 1905
© Colección Carmen Thyssen-Bornemisza en préstamo gratuito
al Museo Carmen Thyssen Málaga
Organised to mark the 100th anniversary of the artist's death, this exhibition is an extensive retrospective of the career of Darío de Regoyos (1857–1913), the leading Spanish representative of Impressionism. These works will reveal the artist's different modes of artistic expression, thematic concerns and aesthetic evolution over the course of his career. Their original use of colour and audacious depiction of the effects of light and atmosphere make Regoyos's landscapes one of the most innovative chapters in the history of Spanish art of this period.
Regoyos studied in Madrid, under Carlos de Haes, and in Brussels, after moving there in 1879, under Joseph Quinaux. With both he discovered that the landscape, a genre not greatly appreciated at the time, was what most interested him as a painter.
His apprenticeship was enhanced by contact with the most innovative Belgian and French artists of the time, including his friends Ensor, Van Rysselberghe, Pissarro, Seurat and Signac, and the American painter Whistler. He also had close artistic and family links with the Basque Country, and played a vital role in modernising Basque painting at the turn of the century.
He travelled around Europe and Spain in search of subjects, working directly from the life and capturing atmospheric phe¬nomena as they occurred. This explains why there are so many small and medium-sized pictures in his oeuvre; they were sim¬ply easier to carry about. He painted quickly, without preliminary sketches or afterthoughts.