The Collection grows
Recent acquisitions
11 April 2014 - 8 June 2014
Vicente Palmaroli
s.f.
Oil on panel, 70 x 92 cm
© Colección Carmen Thyssen-Bornemisza on gratuitous loan to the Museo Carmen Thyssen Málaga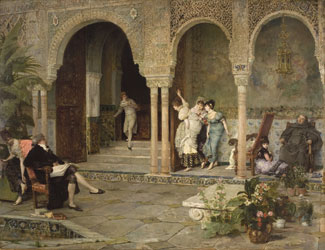 Gonzalo Bilbao Martínez
s.f.
Oil on canvas, 65 x 86 cm
© Colección Carmen Thyssen-Bornemisza on gratuitous loan to the Museo Carmen Thyssen Málaga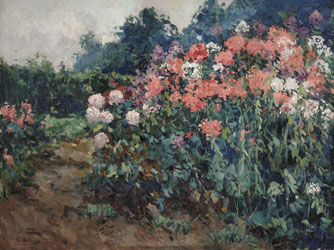 Manuel Benedito Vives
1913
Oil on canvas, 67 x 48 cm
© Colección Carmen Thyssen-Bornemisza on gratuitous loan to the Museo Carmen Thyssen Málaga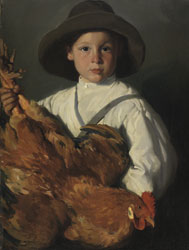 Sala Noble
Works of different styles and periods swell the Museo Carmen Thyssen Collection with themes as important as Orientalism, the portrait or the nude.
The work of Vicente Palmaroli, an eclectic précieux painter, was influenced by demand from bourgeois patrons, particularly in Paris. Palmaroli met with success thanks to a clientele captivated by his excellent control of line and execution. Hide and Seek is set against a background of fascinating Arabic architecture reminiscent of the Alhambra palaces with figures dressed in an 18th-century style playing a simple parlour game.
Clearly evident in his early 20th-century production is the influence of Levantine painting, especially that of Sorolla, as can be seen from works by two of his disciples, Manuel Benedito and Julio Vila y Prades. Paintings by both have been included in the Museo Carmen Thyssen Collection for the first time.
Manuel Benedito was an excellent portraitist and Boy with a Hen is one of the finest examples of his faithful form of realism. By Vila y Prades, a renowned artist in his lifetime, is Valencians, which is based on Joaquín Sorolla's exuberant Portraits of Elena and Maria wearing Old Valencian Dresses. Both Benedito and Vila y Prades greatly admired their teacher and their approach to light and colour was derived from him.
A traditional painter as regards themes, Gonzalo Bilbao nevertheless introduced a certain innovation of artistic language into his work. His landscapes, which were inspired by pictorial regionalism, captured light with loose, vibrant brushstrokes. As his work was extremely popular with the public, it is no surprise that his colourful style won him many followers.
José Bardasano produced an important work of propaganda for the Republic through the "The Gallofa" workshop, which was founded in 1936 during the Spanish Civil War. He was sent to a concentration camp after the war but managed to flee to Mexico, where his work was highly appreciated by the bourgeoisie and he played an active part in the founding of the Circle of Fine Arts.
Evaristo Valle was one of the most interesting figures of the generation of Asturian fin-de-siècle painters. In 1883 he moved with his family to Puerto Rico, where he took up painting. He completed his training in Paris, where he coincided with Aurelio Arteta, Anselmo Miguel Nieto and Ignacio Zuloaga. Valle produced various themes – including theatre boxes, carnivals, social issues and portraits – in series.