Paradises and Landscapes
in the Carmen Thyssen Collection
From Brueghel to Gauguin
31 March - 7 October 2012
Paul Gauguin
An Orchard under the Church of Bihorel, 1884 (detalle)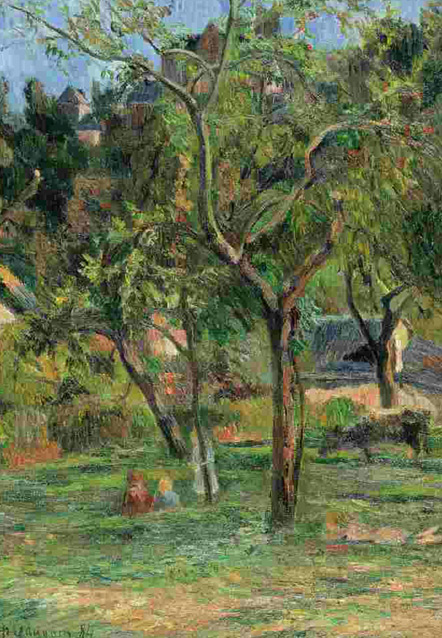 Paul Gauguin
An Orchard under the Church of Bihorel, 1884 (detalle)
Paradises and Landscapes in the Carmen Thyssen Collection. From Brueghel to Gauguin
The exhibition entitled Paradises and Landscapes in the Carmen Thyssen Collection. From Brueghel to Gauguin presents an interesting survey of landscape painting, from the seventeenth century to the twentieth century, represented by significant works in the Carmen Thyssen-Bornemisza Collection. The show examines the depiction of nature as an idyllic place by means of a fine selection of works by artists who have played a key role in shaping the history of art, among whom nineteenth-century American landscape painters and the great masters of Impressionism were most prominent.
The idea of paradise appears in several ancient peoples, both in the Semitic and the Graeco-Latin tradition. The Book of Genesis describes it as a place of particular beauty, where man lived in perfect harmony with nature until the Fall, and his consequent expulsion from the Garden of Eden. Western culture thus incorporated an idea of nostalgia and a desire to recover that lost idyllic place. Landscape painting enabled artists to reflect the myth of an idealised reality, a bucolic and serene atmosphere no longer existent. This first idea, as described in the Bible, was reflected by Jan Brueghel I in The Garden of Eden, where man lives in harmony with all other beings of Creation.
The conception of landscape painting as an idealisation of nature gradually acquired greater doses of Realism in the seventeenth century in Holland, although the scenes would continue to be recreated in artists' studios, for outdoor painting did not develop until two centuries later. Painters such as Jan Josephsz. van Goyen would begin to attach importance to rendering the sensations produced by the contemplation of rural nature, considered to be a reflection of the humblest reality in serene compositions. In France and Italy the opposite would occur, as the landscape genre followed the classical tradition related to Arcadia, which implied a symbolic and poetic representation of nature, in search of a balance between morality and sensitivity. Andrea Locatelli, a faithful continuator of Nicolas Poussin and Claude Lorrain, managed to combine the rationality and perfection of the former with the melancholy and delicacy of the latter in highly subtle, elegant works. Such landscapes would be cultivated until the nineteenth century in Spain, in the age of the blossoming of Romanticism, and one of the most representative painters of this style would be Sevillian artist Andrés Cortés y Aguilar.
During the eighteenth century the poetics of picturesqueness exerted a great influence on landscapism and nature became the backdrop against which artists reflected their ideal conception of the world. Pictorial compositions represented elaborate scenes surrounded by fantastic elements, lush vegetation and classical architecture, usually ruins. Such fantasy worlds appear most often in the works by François Boucher, who sought to offer viewers sensory experiences far removed from reality.
The nineteenth century is broadly represented in the exhibition by American landscape painters who, according to the premises of Romanticism, related the idea of the arrival in paradise with the discovery of the promised land, pervaded by a spiritual sentiment provoked by contact with this impressive unspoilt nature. Among the artists present are Frederic Edwin Church and Albert Bierstadt, characterised by their peculiar idealised visions that focus on sensory exaltation, and their interest in the sensuousness and exoticism of the tropical landscapes in South America. Mention should also be made of Martin Johnson Heade who, without surrendering Romantic positions, chose to depict more serene, essential landscapes in which light was of fundamental importance.
The same Romantic vision was shared by Spanish painters, who developed a type of landscape devoid of drama that attached importance to the grandeur of natural scenes. This is the case of Genaro Pérez Villaamil, in whose works we discover subtle and delicate scenes of nature, almost fantastic, with spectacular light effects. This concern with depicting specific atmospheres and with rendering changes of light, despite its theatricality, would be a stepping-stone towards Realist landscape, which gradually abandoned subjectivity in favour of sincere interpretations and a Naturalistic approach. The landscape genre developed further in Spain in the works by Carlos de Haes, who in the mid-nineteenth century combined his interest in observing nature with great technical skill. Spanish Naturalist painters included Emilio Sánchez-Perrier, whose landscapes reveal a total absence of decoration and artifice and focus instead on faithful direct studies and representations from life.
Within the group of painters who transformed their landscapes into rural paradises were the artists belonging to the Barbizon School, who symbolised the perfect union between man and nature. In the eighteen thirties Barbizon became a favourite place for the painters who were leaving Paris driven by the need to establish pure, sincere and harmonious relations with natural world. In this way, as they sought to create a place that would evoke sereneness and purity, they revolutionised the landscape genre by taking their easels out of doors for the very first time in history and practicing plein air painting, concerning themselves with capturing atmospheric phenomena. Their audacity heralded the great transformation that art was about to suffer with Impressionism, which, starting from the Barbizon experience, would turn the concept of pictorial representation completely inside out.
In the late nineteenth century, therefore, landscape painting took centre stage and became an indispensable genre in the evolution of modern art, despite having been considered a minor genre barely one century before. The exhibition displays works by the most representative artists belonging to the Impressionist movement, such as Camille Pissarro and Pierre-Auguste Renoir, who would forsake their initial interest in depicting the majesty of nature to render the simplest moments of life in the country. Their attention was focused primarily on conveying the emotion of a pleasant moment through the use of colour and a spontaneous even gestural technique. Initially linked to Impressionism by his relationship with Pissarro, another of the great talents of Modern Art present in the show is Paul Gauguin, whose landscapes represented his own personal view of paradise—exotic worlds, far from Western society, that enabled him to live in spiritual purity and perfect harmony with nature.
The Impressionist revolution would prove to be a road of no return in the history of landscape painting, both in France, where Neo-Impressionism emerged out of research in the field of colour, as we see in the works by Henri-Edmond Cross, and on an international scale. We must not forget that similar developments on the other side of the Atlantic would result in an American version of Impressionism developed by artists such as Frederick Childe Hassam, Edward Henry Potthast and John Singer Sargent. Darío de Regoyos, a founding member in Brussels of the Les XX group of artists and connected to the international avant-garde, would introduce these plastic advances in Spain. In the rest of Europe many artists continued to show a preference for Romantic settings, such as Wilhelm Trübner, and even for depicting a reality highly charged with symbolism, like Edvard Munch. In all these cases, artists approached nature more freely and directly, creating compositions that would reflect their own feelings as well as become vehicles for pictorial innovation.
Thanks to the group of works on display, that range from the Baroque to the twentieth century, thus covering Romanticism, Naturalism and Impressionism, we have a unique opportunity to journey into an unknown land and discover peaceful and harmonious spots, idyllic views of nature that can very well be considered as examples of paradise lost.